Posted on
Sun, Jan 16, 2011 : 9:45 p.m.
Hill Auditorium audience loves Renee Fleming - and the feeling is mutual
By Susan Isaacs Nisbett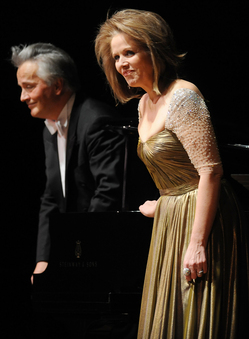 Melanie Maxwell | AnnArbor.com
You might say we've been friended by Renee Fleming, and that's no small deal.
America's reigning soprano, in town Sunday afternoon for a recital with pianist Hartmut Holl and to receive the University Musical Society Distinguished Artist Award at the 16th annual Ford Honors Gala, told the capacity Hill Auditorium crowd that both the hall and its audiences were among her favorites anywhere. Which led UMS president Kenneth Fischer to quip, during the award-presentation portion of the program, "We're so glad you love us, but this little ceremony is all about how much we love you."
Peace, love and friendship are pretty good ways to ring in the new year, but so is gorgeous singing, and the afternoon's feel-good cornucopia extended to the latter. Fleming, dressed in a liquidy bronze gown, jeweled at the shoulder, for the first half of the program and an iridescent sea-green taffeta with net sleeves (and more sparkles) for the second, served as her own easy-going MC for the recital — as gracious a "come-on-in, folks" host as she is for the Met HD broadcasts. And if the program itself got off to a bit of a slow start, it gathered steam steadily, so that nothing — not even the interruption of the award presentation before her three encores (the aria "O mio babbino caro" from Puccini's "Gianni Schicchi," Strauss's "Zueignung" and "Marietta's Lied" from Korngold's "Die Tote Stadt") — could impede its momentum. Sumptuous singing — call it luscious, if you like, a word Fleming threw out to describe some of her repertoire — was the order of the day, in selections that ranged from pieces that were old friends, like the songs from Brad Mehldau's "Book of Hours: Love Poems to God," composed for her; to new ones, like the three songs of her R. Strauss set, which she was adding to her copious Strauss store; and to obscure arias from even more obscure operas, like "Ier dalla fabbrica a Triana," from Riccardo Zandonai's "Conchita."
But though Fleming was at ease with the jazzy, cabaret-like inflections of the Mehldau, the songs, hers though they may be, were perhaps not the most felicitous way to begin the recital. They made a difficult entry for listeners. The lights were too dim to read the Rilke poems, her diction was not quite crisp enough to distinguish the words, and so one was left with beautiful, but unmoored, vocal effects above all else. Things got better after that. Fleming's Schoenberg selection, "Jane Grey," took on spectral colors that matched Holl's playing — he was a marvel throughout the recital, restrained, elegant, understated in the best of ways. And her Strauss songs — "Winterliebe," the murmuring, ever-climbing "Traum durch die Dammerung" and the oceanic "Gesang der Apollopriesterin" — were beautifully rendered.
Still, for color, character and variety, it was the program's second half that was the true charm — lush Korngold songs followed by the cooler French loveliness of Duparc and then by Fleming's characterful realizations of "La Boheme" arias by both Puccini and Leoncavallo. Fleming clearly had fun with the final aria of the formal program, from Zandonai's "Conchita." "Carmen on steroids," she called the opera, and she made this listener, at least, want to hear more.