Posted on
Sat, Apr 2, 2011 : 5:08 a.m.
Takacs String Quartet returning to complete Schubert trilogy
By Susan Isaacs Nisbett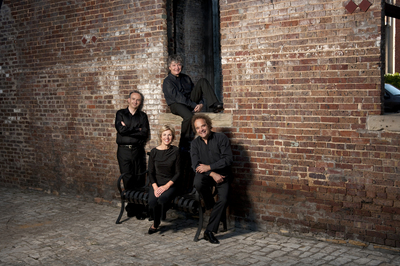 photo by Ellen Appel
There are many works that would qualify as Schubert's Greatest Hits, but among them, the Takacs Quartet is certainly offering two Friday — the Trout Quintet and the Cello Quintet — when it appears at Rackham Auditorium under University Musical Society auspices.
For this third and final concert of its Schubert series here, the Takacs members are joined by pianist Jeffrey Kahane and bassist John Feeney for the swimmingly wonderful "Trout," and by cellist Paul Katz for the Cello Quintet — the last instrumental work Schubert composed before his death, at 31, in 1828.
Kahane was supposed to perform here with the Takacs earlier this season, but had to cancel because of illness. Katz, cellist with the late, great Cleveland Quartet, is an Ann Arbor regular; in recent years alone, he has made almost annual appearances at Kerrytown Concert House with musicians from the Great Lakes Chamber Music Festival.
PREVIEW
Takacs Quartet
Who: Acclaimed chamber ensemble.
What: All-Schubert: "Trout" Quintet and the Cello Quintet.
Where: Rackham Auditorium, 915 E. Washington St.
When: Friday, April 8, 8 p.m.
How much: $24-$48, from the UMS Ticket Office in the Michigan League, 734-764-2538, or online at ums.org.
As an artist, Katz plays second fiddle to none — except in the Schubert Cello Quintet.
"Since the Cleveland Quartet ended, second cello in the Shubert Quintet has become a second career for me," he said recently by phone from Boston, where he teaches at the New England Conservatory. "I'm playing it all the time with quartets. I think the last time I played it was last summer. I play it two to three times a year."
Of course, during the 26 years of the Cleveland Quartet, Katz played the first-cello part a lot — but never the second cello.
"When the Cleveland Quartet ended, and I was asked to start doing this, it was stressful," he said. "I came in wrong a couple of times; I came in with the first cello part. But I got over it. And the music itself is such a miracle that never, ever have I felt tired of playing it."
Katz said he has come to adore playing the second part.
"It doesn't have as many melodies as the first, but it has some of the great moments of the piece. Now I understand why all these immortal cellists — Harrell, Starker, Rose, Yo-Yo — accept the second part. They all played second cello to me, and it's a wonderful experience."
So now Katz is happy playing second cello to Takacs cellist Andras Fejer.
And to be playing in Rackham Auditorium. "I started teaching at age 22 at the University of Toledo," he said, "and my favorite escape was to come up to Rackham to hear the chamber music series. And then with the Cleveland, UMS hosted us on our final tour. One of our last 10 concerts was in Rackham. I'm very nostalgic about that."