Posted on
Fri, Nov 11, 2011 : 9:34 a.m.
Director Chris Paine talks about 'Revenge of the Electric Car' ahead of Ann Arbor appearances
By Jenn McKee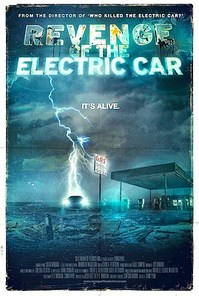 Documentary filmmaker
Chris Paine
first got people talking in 2006, when "Who Killed the Electric Car?" hit theaters. Telling the story of GM's EV 1—an electric vehicle created, and then destroyed, in the mid-90s—the film explored the reasons behind, and the parties involved in, the car's mysterious disappearance.
Since then, our economy, and the auto industry, have both changed significantly, however, and hybrid and electric cars are now being produced by a number of automakers. Paine's newest film, "Revenge of the Electric Car," focuses on four men on the front lines of this recent development, including former GM vice chairman Bob Lutz, who will join Paine for a Q&A on Sunday night, following an 8 p.m. screening at the Michigan Theater. Paine will also answer questions after the 7 p.m. screening at the Michigan Saturday night.
Paine answered some questions from AnnArbor.com:
Q. What initially prompted you to revisit this subject?
A. We just got access to some amazing stories … that I never expected to get acess to. A Steven Jobs-type guy at Tesla, and then an old-guard Detroit leader, and they both happened to be developing plug-in cars at a time when I thought that the battle was lost in the short term. And I thought, "Well, how often does this happen? Let's go."
I think we were also sort of shocked that the industry as a whole was changing their tune about this—which is exactly what we were hoping would happen after the first film, but I didn't really expect it. Usually, you bang the drum, and not a lot of people are listening. And this time, I think a lot of people pressured the industry, and gas prices hit $4 a gallon, and a coalition of the right and the left began to say, "Hey, we can't live on this oil thing forever." And then, the technology leaped forward, so that the cars were able to compete with gas cars on a serious level. So game on. Let's make a movie.
Q. What role do you think your first film played in sparking a change?
A. I think public pressure on the car industry was a factor, and our film probably played into that. I know that we got a lot of emails from people working at car companies that said, "Hey, they're passing your film around. People are talking about it. Don't count the electric car out, it might be back."
Q. You own a couple of different electric cars. Of the ones that are out on the market now, do you have a favorite?
A. We traded in our Prius and bought a Volt about 9 months ago, after we finished shooting the film, because we had watched the thing in development for so many months. … I've been quite happy with it. It's an extraordinary car. Better than I expected, actually. …
But each car is in a very different class. The Volt is a terrific replacement for a gas car, because it's still a gas car, but the first 50 miles, or 40 miles, are electric. So you can drive in electric mode most days, but you've got the gas as a backup. So we use this for road-tripping, and I use it as an around-town car. My girlfriend, she has a Nissan Leaf, and she really likes that car. And she drives it every day. … So each car has its strengths. And I think any plug-in car you buy right now is probably worth more than you're paying for it.
Q. Do you think the mileage limitations of the pure electric vehicles, like the Leaf, are part of what makes people hesitant to make the switch?
A. People don't like to change what they already know. … It's kind of like, when cars first came out, they would call them "horseless carriages" because people didn't want to give up their horse, and so they would tell you that your new car was created at 5 horsepowers: "It's like having 5 horses." So people would go, "Oh, you mean it's just like a horse. Tell me it's just like a horse." And people didn't get the intrinsic value of the car itself.
I think in the same way, everybody who wants the electric car to be exactly like the gas car is forgetting that you have a lot of incredible advantages that have everything to do with being electric and not being a gas car. And I don't mean just that you're saving the environment or something. I mean that, because it's using an electric motor instead of a gasoline (one), it's a much more dynamic, exciting drive than you get when you have to push the gas pedal down and make this huge noise, and the car shifts gears and all this stuff. Electric cars stand on their own as the next generation of car technology.
PREVIEW
"Revenge of the Electric Car"
What: Director Chris Paine will speak at two screenings of his new film at the Michigan Theater this weekend; former vice-chairman of General Motor Bob Lutz will also take part in Sunday evening's conversation.
Where: Michigan Theater, 603 E. Liberty St.
When: Saturday at 7 p.m., and Sunday at 8 p.m.
How much: $9 ($7 for students/seniors/veterans). Advance tickets available through www.ticketweb.com.
Also: The movie screens throughout the week at the Michigan; for a full schedule, see the theater's website.
I think one of the shocking moments when we were shooting the film was when Bob Lutz said, 'The electrification of the vehicle fleet is a foregone conclusion.' And this is Mr. Horsepower saying this. The reason he said it is not because he suddenly was into Al Gore movies, or he got a message from the Pentagon saying that we need to save oil for battleships. The reason he said it is, he began to start driving these cars, and he understood what acceleration was all about, and what having a car … that didn't have the transmission issues and the issues of carrying an engine with you everywhere would be like. It's just the next generation of vehicles. But … people want it to be a horseless carriage. They want it to be just like the gas car, and a lot of people will wait until the battery equals 300 miles instead of sort of phasing this into the way they use a vehicle.
Q. Not many people have gotten to experience how an electric car feels to drive.
A. That was the number one reason why we made "Who Killed the Electric Car" because, sure, it's too bad that the auto industry decided to crush 5,000 cars. … But the real loss was that … most Americans, 99 percent, never had a chance even to try them out and go, "This sucks," or, "Wow, I actually like this better." And because the option wasn't there, we just could never find out. So the electric car stayed in this world of theory and argument as opposed to the world of experience. That's one reason why my new film—it's much more optimistic this time, because the electric car moves back into the world of experience, and not just theory.
Q. A Men's Journal story written about you included an account, by the writer, of having to get a ground-floor hotel room in order to feed an electric car's cord through the window and charge it. This trepidation about infrastructure is something else that gives people pause, too, of course. What do you say to people who hold back because of these concerns?
A. Well, remember this: The Volt, and the cars like the Volt, don't have that problem with the hotel. You never need to do that. You always have the gas backup. So that takes that right off the table.
But if you're talking about pure electric vehicles, I say it like this: I got my electric car in 1995 as a second car to see if I liked it. … Well, it soon became my primary car, and the gas car really became the secondary car that I'd only use once every two weeks, when I would drive my kids from Los Angeles to San Diego. And every other day, I'd be using the electric car. And in the same way that the gas car becomes a secondary car, for most people who drive 25 miles or less, which is the national average, the gasoline becomes a terrific backup, or a car that you rent, in the same way that, for example, we rent a seat on Southwest Airlines or whatever airline we have in our neighborhood, rather than having a jet parked in our backyard. … So if we can just own one thing, why not own the thing that it supports the kind of driving we do the most? …
And right now, there are more places to charge your car than there are gas stations in the world, if you consider that every outlet in the world could charge your car. … If you want to have roadside fast-charging, yes, that's going to take a little bit longer. But I think the cars need to come before the fast-charging.
Q. Finally, GM was one of the villains of your first film, but the company gave you a great deal of access for this film. Your first interactions must have been a bit awkward.
A. We had to be careful not to get sucked into the spin machine at not just GM, but Nissan and every car company that we dealt with. They're very powerful marketing organizations. And on the flip side, you can bet they weren't too psyched to have the people who made "Who Killed the Electric Car?" coming and filming behind closed doors with no editorial control for three years. So I think everybody took a chance, with the understanding that we wouldn't show any footage for competitive reasons, Security and Exchange Commission reasons, bankruptcy reasons, all those reasons, until 2011. But it's kind of fun to be showing footage now, finally.
Jenn McKee is the entertainment digital journalist for AnnArbor.com. Reach her at jennmckee@annarbor.com or 734-623-2546, and follow her on Twitter @jennmckee.