Posted on
Sat, Apr 6, 2013 : 2:06 a.m.
The Purple Rose makes the most of '33 Variations'
By Jenn McKee
What did you think of the play? Leave a comment and / or vote in the poll at the end of this post: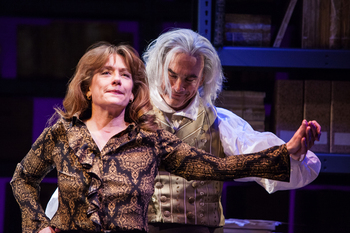 photo by Sean Carter Photography | courtesy of the Purple Rose Theatre Co.
In
Moises Kaufman
's drama "33 Variations," now playing at the
Purple Rose Theatre
, a nurse explains that one of the few benefits of a degenerative disease like ALS is that physical intimacy with others is necessitated by the illness' progression.
So when the patient is an emotionally distant, work-obsessed musicologist like "Variations"' Dr. Katherine Brandt (Michelle Mountain), who struggles to relate to her grown daughter, Clara (Lauren Knox), a degenerative illness can actually work to break down walls within a family.
But the clock is ticking for Brandt, who's frantic to solve the mystery of Beethoven's Diabelli Variations - namely, find out why the composer (played by Richard McWilliams), in the last years of his life, dedicated so much time and effort to "riffing" on a lesser composer's pedestrian, commonplace waltz.
Kaufman's play jumps between the present - focusing on Brandt, Clara, and Clara's boyfriend Mike (the above-mentioned nurse, played by Michael Brian Ogden) - and Beethoven's time, so that we see Beethoven composing the variations as his health (and ability to hear) declines.
"Variations" features moments both moving and funny, yet there's a self-conscious quality to some of its dialogue, as well as a few contrivances in the script. Mike and Clara's courtship scenes often feel sitcom-cute instead of authentic; and when Clara decides to join her mother in Bonn, Mike drops everything to move there with her, though the couple has been together a short time.
In addition, a German archivist (and walking cultural stereotype) named Gertrude (Rhiannon Ragland) quickly grows close to Katherine and steps in to help take care of her, despite Katherine's apparent difficulty making and maintaining relationships; Beethoven has a now-all-too-predictable scene of unfettered, effusive creativity while composing one of the variations; and a scene in which Gertrude suggests hiring a male prostitute for Brandt doesn't really earn its place in the two-hour show. (Funny? Yes. Necessary? No.)
Yet in spite of the script's problems, the Rose's production is beautifully executed, for the most part. Because the script calls for numerous locales, existing in different time periods, Tom Whalen's sound and Dana White's lighting often work in tandem to efficiently establish scene changes (a dance club, a concert hall, a hospital, etc.). Vincent Mountain's set design, meanwhile, features colorless, institutional shelves full of archived materials, which gives the audience a sense of being "in the stacks"; and Suzanne Young's costume design helps to further define each character's sense of him/herself in the world.
McWilliams is compelling as the larger-than-life, ultimately inscrutable composer, though David Bendena, playing Beethoven's assistant Anton Schindler, manages to steal a few scenes in his own right. And Ragland locates both the humor and the heart in Gertrude. But the show is primarily a showcase for Mountain, who depicts her character's physical deterioration, and emotional evolution, with skill and care. When Brandt finally arrives at the answer to the mystery she set out to solve, the moment feels genuine, and the truth hard-won.
Yes, director Guy Sanville's soft spot for sentimentality creeps into the production at times - the last scene, for one, feels over-long and overwrought, even though its pacing appears to be a direct outgrowth of the mystery's "answer" - but overall, Sanville's vision, cast, and design team for "Variations" manages to take a flawed script and turn it into a pretty satisfying show.
"33 Variations" continues through June 1. For background information, see the preview article. For tickets, go to www.purplerosetheatre.org.