Posted on
Fri, Mar 15, 2013 : 2:32 a.m.
A2CT 'Cat on a Hot Tin Roof' has a winning vision
By Jenn McKee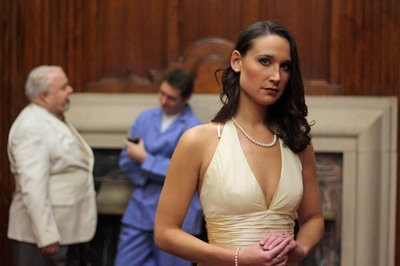 When, in the line of duty, I see multiple productions of a classic play—like
Tennessee Williams
' "Cat on a Hot Tin Roof," now being staged by
Ann Arbor Civic Theatre
—I'm all the more appreciative of a director with a distinct vision that makes me hear familiar passages in a new way.
Kat Walsh, at the helm of A2CT's "Cat," is one such director; and while not every element of her vision succeeds, the whole is more than satisfying.
"Cat," of course, tells the story of a wealthy Southern family in crisis. As wealthy, land-rich patriarch Big Daddy (Charles Sutherland) celebrates a clean bill of health on his 65th birthday, his two sons and their wives hide the truth: that Big Daddy has cancer and won't live to see another birthday. Oldest son Gooper (Glenn Bugala) and his wife Mae (Alexandra Berneis), along with their five (off-stage) kids, openly jockey for position regarding the family inheritance, while something far more complicated consumes alcoholic ex-football player Brick (James Ingagiola) and his lonely, sexually frustrated wife Maggie (Anna Heinl).
The play's first act largely consists of Maggie talking excessively as Brick drinks himself into oblivion (and the rest of the family lurks outside); Heinl handles the dense monologues with magnificent skill and clarity, making Maggie's snide assessments a further expression of the character's innate sadness. Plus, Heinl's lithe physicality visually suggests comparisons to the title feline.
Ingagiola, meanwhile, compellingly presents a Brick who isn't wholly aloof and dismissive toward Maggie (as is often the case), but rather one who's comfortable and familiar with her, despite his lingering resentment and lack of sexual interest. The character interpretation piqued my interest, and gave Brick greater dimension, thanks to the residual compatibility that haunts his troubled marriage.
Sutherland, despite a few minor line flubs on opening night, is well-cast as Big Daddy, a blustery, larger-than-life figure with a soft spot for Brick. (A conversation between the two men in the second act is powerfully executed.) Playing his wife, Big Mama, Susie Berneis effectively creates an emotional, open-book, comic foil for closed-off Big Daddy, while Bugala and Alexandra Berneis make their scheming, overlooked characters a bit more human.
With its dense, rich dialogue, intense moments, and a running time of nearly three hours, "Cat" is a play that sometimes threatens to collapse beneath its own weight. But this is where Walsh's directorial choices enter the picture.
First, by integrating translucent screens into the set, Walsh allows us to observe the shadows of those just outside Brick and Maggie's room, as well as shadow puppets (performed by Carrie Elizabeth Morris) playing croquet; this informs the sense of infiltration, and violation, that pervades the script in an interesting way.
That having been said, some of the pantomiming looks stilted and awkward, and the external noise sometimes overwhelms the dialogue. But Nathan Doud's set is a beaut, accessorized with Molly Kraus-Steinmetz's props. Amanda Barnett's costumes serve the show well overall, though I wondered about Maggie's fairly conservative gray dress (it seemed in opposition to her personality and style); and sound designer Matt Steward contributes a great deal to the show's atmosphere, including crickets that chirp as the audience enters the theater to take their seats.
A storm scene in the second act is problematic—the intensity level among the characters is high, and it remains untenably high for a good while as the sounds of a hard rain and thunder assault the audience, making it challenging to absorb—but the production overall offers an intriguing take on Williams' classic, inviting us to crash this troubled family's party, too.
"Cat on a Hot Tin Roof" plays through Sunday. For tickets, go to www.a2ct.org.
Jenn McKee is the entertainment digital journalist for AnnArbor.com. Reach her at jennmckee@annarbor.com or 734-623-2546, and follow her on Twitter @jennmckee.