Posted on
Fri, Nov 16, 2012 : 2:40 a.m.
A2CT's 'Legally Blonde' makes its case - and mostly wins
By Jenn McKee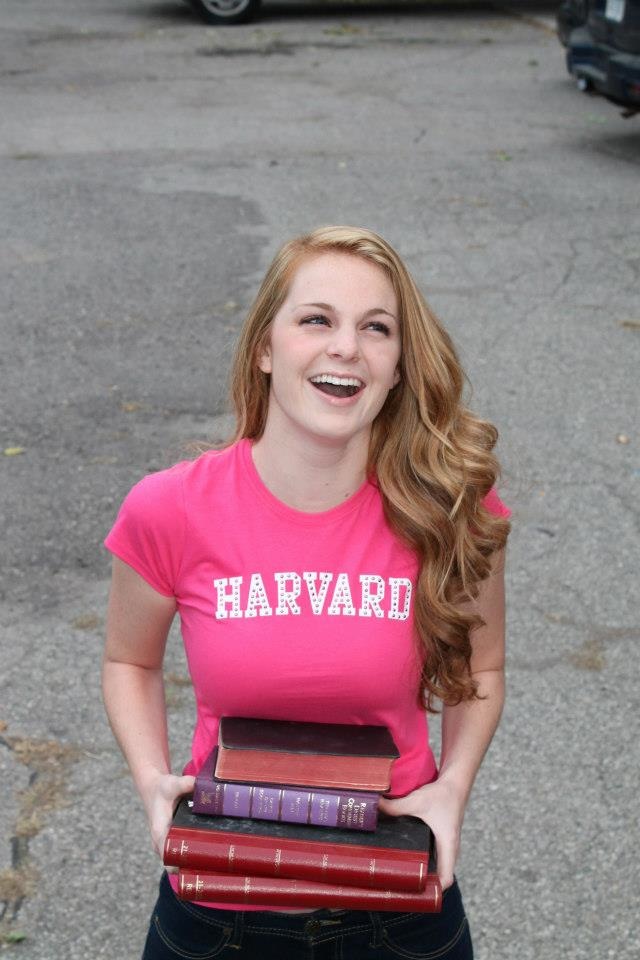 Photo by Kyle Farr
What did you think of the show? Leave a comment and / or vote in the poll at the end of this post:
Just as a great Harold Hill goes a long way in helping a production of "The Music Man" succeed, the same goes for Elle Woods in "Legally Blonde: The Musical," now being staged by Ann Arbor Civic Theatre. (This review is based on the production's final dress rehearsal on Wednesday evening.)
Fortunately, A2CT's two-and-a-half-hour production is largely in the hands of the perfectly cast, effervescent Kimmy Hay, who proves herself more than capable of handling the show's vocal demands, and stays true to the character (created by Reese Witherspoon in the 2001 film) while also employing restraint, so pampered Elle never grates on your nerves.
And that's saying something, because as a musical comedy, "Legally Blonde"—with music and lyrics by Laurence O'Keefe and Nell Benjamin, and a book by Heather Hach)—doesn't deal in subtleties, but rather in broad comic strokes. Elle is the quintessential California (and sorority) girl from a wealthy family who almost always gets what she wants. So when her boyfriend Warner (Nick Rapson) dumps her before heading across the country to Harvard Law School, she hatches a plot: She'll go to Harvard Law, too, and win him back.
"Legally Blonde," from a strictly logistical standpoint, is an ambitious undertaking for a community theater group, given its many, many scene changes, dance-heavy numbers, and costumes. So perhaps it's no surprise that while A2CT's production, directed by Wendy Sielaff, has some strong moments and numbers, it also stumbles occasionally, too.
"What You Want," for instance—a big rah-rah number intended to stand in for the personal essay Elle didn't include with her Harvard Law application—aims to be an electrifying jolt of musical-theater energy; but a lack of precision and crispness regarding the execution of the choreography (generally well-designed by January Provenzola and Caitlin Rowe) makes it feel a bit messy. And because Civic has many wonderful singers who aren't necessarily "belters," microphone inconsistencies can mean that lyrics—and thus, clever punchlines and pieces of the story—sometimes get lost.
Meanwhile, numbers like "So Much Better" and "Whipped into Shape" work well (the latter due largely to truly heroic singing-while-jump-roping efforts by Marci Rosenberg); and some appealing supporting performances help round out the show.
Specifically, the two male leads, Rapson and Michael Joseph (who plays Elle's friend, Emmett), offer good vocals while also establishing themselves as two men from very different environments; as Paulette, Elle's hairdresser, Kathy Waugh sings with polish and has a great time ogling a hunky UPS man; and Frankie Topalian, as sassy Sigma Nu sister Serena, distinguishes herself by way of charisma and spunk.
Set designers Wendy and Mike Sielaff had their hands full with "Legally Blonde," so in most cases, a few props (by Kyle Farr and Keshia Daisy Oliver) and/or small, portable set pieces delineate each locale, with varying results. And costume designers Nancy and Sara Rydzewski mostly offer effective, thoughtful choices. Though I questioned the drapey, short, electric pink dress Elle wore to argue a case in court—a pink business suit would have been more appropriate and believable—I appreciated the rest of Elle's wardrobe, as well as the fact that the sorority sisters weren't visually cut-out copies of each other. Finally, music director Mike Williams' orchestra generally sounded fine, despite some rough spots, and the ensemble singing often sounded terrific.
Every once in a while, "Legally Blonde," despite its inherent, relentless fizziness, threatens to take itself a bit too seriously—see the title number near the end—but like Elle herself, you almost can't help but be charmed in the end by its spirit.
"Legally Blonde" continues through Sunday. For background, see the preview article; for tickets, see the A2CT website.