Posted on
Sun, Oct 23, 2011 : 7:48 a.m.
Concert celebrates Beethoven, but also the power of the Ann Arbor Symphony Orchestra and pianist Anton Nel
By Susan Isaacs Nisbett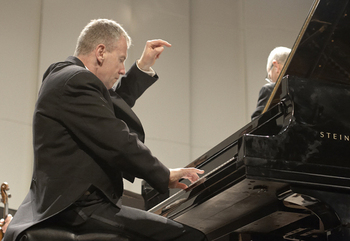 photo by Greg Czarnecki | courtesy of the Ann Arbor Symphony Orchestra
When you start off your season on a high note—as the
Ann Arbor Symphony Orchestra
did in September with a concert capped by a spectacular Shostakovich Symphony No. 5—the question is, what do you do to top it? The answer, in one word: Beethoven. That's the card the A2SO played, and played awfully well, at its "Beethoven Festival" Saturday evening at the Michigan Theater. Picking a king among concertos—"The Emperor"—and a prince among pianists to play it—
Anton Nel
—helped this concert soar, too. But if the concerto, like the Shostakovich in September, was the concert's capstone, it was not the whole story.
The orchestra, under the baton of Music Director Arie Lipsky, was in top form again Saturday. Whether it was main attraction—as in the "Fidelio Overture" or the Symphony No. 1 in C Major—or supporting actor—as in the concerto—it played with the cohesion and clarity one hears more frequently in chamber music than orchestral repertoire.
In the symphony, the playing was notable, also, for its color, warmth and character. Lipsky's tempi were nigh onto perfect—for a first-movement Allegro that was properly light on its feet; for a second-movement Andante that not only sang, but danced; for a swift Minuetto; and finally, for a finale brimming with vitality. Throughout, his conducting highlighted architectural elements, subjugating non-structural elements to weight-bearing ones. The result was a performance that never bogged down, that always moved forward.
It was a congenial first half, with "Fidelio" and the First Symphony. It was a sublime second half, with Nel and the "Emperor."
This is Nel's seventh appearance with the A2SO, but he is even more familiar to Ann Arbor audiences than that number would indicate. For many years, this world-class player was a professor of piano at the University of Michigan, and locals had ample opportunities to hear him in university and city venues. Then he left us for the University of Texas; Saturday marked one of his welcome returns.
Nel is a player of immense power, poetry and poise, and he brought all that to bear in this "Emperor." Start with poise: Nel never gave away the game, shifting seamlessly from brilliant, breakneck-speed passagework to passages of luminous grace and lyricism. On to poetry: passages played with the most beautiful, crystalline sound; a second movement that was heartbreaking in its evocation of something grand and good and lamented. (The orchestra did its stellar best here, too.) And power: no lack there, as he cut through the orchestra and produced his own orchestral sound.
To end, there were Beethoven encores. Nel offered first a Beethoven "Bagatelle," (C Major, Op. 33), tossed off with almost cocky panache, as if it really were a trifle, rather than the fiendish (and witty) excursion it is. And then a piece we might tend to regard as a trifle, "Fur Elise," mined for all the beautiful nuances and Beethoven features we have forgotten are there. It was a charming, and instructive, finish to the evening.