Posted on
Sat, Nov 19, 2011 : 2 a.m.
'Ain't Misbehavin'' ain't to be missed at Performance Network
By Jenn McKee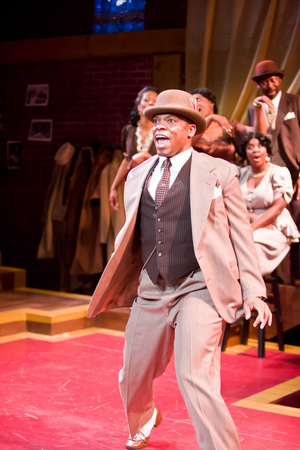 photo by Sean Carter
"The Joint is Jumpin'" is not only the name of one of the many
Fats Waller
tunes featured in the Tony Award-winning musical revue "Ain't Misbehavin'," but is also an apt description of the scene inside
Performance Network
, which is now offering a joyous, wholly satisfying production of the show.
Conceived by Richard Maltby, Jr. and Murray Horwitz, "Misbehavin'" places the audience in a Harlem club in the 1940s, where a handful of performers sing about 30 of Waller's distinctive, catchy tunes.
Director Tim Rhoze adds a level of specificity to the show by making "Misbehavin'"s club an after-hours basement joint, where performers knocking off work get together to make music for themselves; and Daniel C. Walker's set design, along with Charles Sutherland's props, work marvelously to achieve this atmosphere.
With what appears to be a red brick and cement block backdrop - plus a few opaque glass block windows along the top (at what would be street level) - the set is bisected by a raised door and a staircase that leads down to seemingly worn, scuffed, crimson stage, and a tiny space for music director R. MacKenzie Lewis and his orchestra of three. (Here's hoping drummer Billy Harrington, who's tightly stuffed beneath the raised walkway that runs from door to staircase, isn't claustrophobic.)
Club seating for patrons at both sides of the stage - complete with a cafe table and a small lamp between chairs - give the performance space more of a clubby feel, while also providing the performers with a place to take an occasional breather and blend in with the crowd. And framed photos of era musicians cover the back wall.
The five performers paying musical homage to Waller in "Misbehavin'" - Darrian Ford (a Chicago-based actor with Broadway credentials), Jennifer Cole, Kron Moore, James Bowen, and K Edmonds - make a seamless, appealing ensemble while also taking opportunities to shine individually. They're all not only strong singers (and some of Waller's tunes are brutally challenging), but strong actors, too, letting each song tell its own story.
Show highlights include Ford's seductively louche rendition of "The Viper's Drag," as well as his duet with Bowen, "Fat and Greasy," which got the crowd clapping and singing along on opening night. (Ford is one of those performers who's so polished that he makes it all look easy.) Bowen also scored big with "Honeysuckle Rose" and his hilariously irresistible take on "Your Feet's Too Big" (which, not coincidentally, follows Moore's moving performance of "Mean to Me"). The ensemble's "Black and Blue" hit a bittersweet note, as gorgeous harmonies broach the ugliness of racism. And Cole's "Keepin' Out of Mischief Now," and Edmonds' "Squeeze Me," were stripped down, quiet moments that invited the audience to simply drink in the pleasure of a love song sung well.
Robin Wilson's choreography, meanwhile, nearly always conveys an ease that makes it of a piece with the after-hours club atmosphere envisioned by Rhoze. Suzanne Young's smart, meticulously tailored costumes, using a palette of browns and ivory, have touches of tasteful glamour; and Mary Cole's lighting design helps to convey shifting emotional tones and mark transitions between songs.
Now, I'll admit that revues aren't my favorite type of show (I generally prefer to watch a story unfold when I'm in a theater); and personally, I think the second act's tunes are a stronger lot than those in the first. But of the handful of different "Misbehavin'" productions I've now seen in recent years, PNT's is clearly the best, thanks to Rhoze's vision, and his team's execution. Somehow, giving the show's performers a highly specific situation grounds the show in a way that finally allows it to take flight.
"Ain't Misbehavin'' continues through Jan. 1. For tickets, call 734-663-0681, or visit www.performancenetwork.org.
Jenn McKee is the entertainment digital journalist for AnnArbor.com. Reach her at jennmckee@annarbor.com or 734-623-2546, and follow her on Twitter @jennmckee.