play review
Ann Arbor Civic Theatre's 'Leaving Iowa' feels like a long trip
Posted on Fri, May 4, 2012 : 2:35 a.m.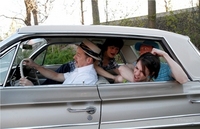 "Are we there yet?" is, of course, the widely recognized call of the bored backseat child traveler, two of which appear in Ann Arbor Civic Theatre's production of "Leaving Iowa."

Unfortunately, though, you might have the same thought while watching the show.

For Tim Clue and Spike Manton's genial-but-flat script is, more than anything, a collection of generic (if occasionally charming) family road trip sketches, held together by what now feels like a played-out raison d'etre: a regretful son's journey to find a final resting place for his father's ashes.

The son, Don (Nick Boyer), is a newspaper columnist in Boston who long ago outgrew his Iowa hometown. Three years after the death of his father (Matthew Steward), whom Don had struggled to communicate with over the years (think "Cat's in the Cradle" in reverse), Don returns to Winterset for a family event and decides he'll finally grant his father's last wish and take the ashes to Dad's childhood home. But when Don finds the house is no longer standing, he scrambles to figure out a suitable Plan B; and while driving, he revisits the long family car trips the family took.

One of the play's running gags is Dad's insistence that the Brownings are "unpredictable" when, of course, they're anything but, being familiar sitcom types (vanilla mom, manipulative little sister, gung ho dad, etc.) more than uniquely fleshed out individuals.

For this reason, the colorful characters that the Brownings encounter while traveling often inject some much-appreciated life and energy into the play. Isaac Ellis, Steven R. White, Erica Dutton and Amanda Barnett each play a handful of these eccentric roles with appropriately broad strokes, earning big laughs. (On opening night, Ellis in particular was a stitch.) While watching the show, I found myself waiting for the next "stranger" scene with anticipation.

In terms of the Brownings, Steward ultimately anchors the production with his surefooted performance, while Dana Denha also does good work as the smart, sneaky daughter. Kathleen Beardmore doesn't, as Mom, have all that much to work with, but she nonetheless establishes her character clearly and consistently; and Boyer, as the story's narrator, must labor to make numerous time jumps—from childhood to adulthood—in the blink of an eye; in most cases, he does so effectively, and his portrayal of a young boy is pretty on-target.

Indeed, though the script's narrative generally lacks momentum, director Michael Schacherbauer keeps things moving as best he can by way of overlapping scenes and quick set changes. Yet with a running time of a little more than 2 hours, the play still feels over-long.

Even so, Schacherbauer's wise choice to make the road trip memories less-than-literal—family members freely move around the stage, though they're supposed to be traveling in a car—puts the production's spotlight on the emotional truth of these moments, which helps.

Dick Vail designed "Iowa"'s spare, versatile set in tandem with Martha Montoye's props (a scene involving the kids' grandparents standing behind a fence with a giant Rice Krispie treat was one of my favorites). Rob Brown's lighting design guided the audience's gaze and created nice effects throughout (cars passing at night, a near-collision with a truck). Alix Berneis designed the show's just-right costumes, and Dave Winkler's sound design helped land a couple of jokes late in the show (see the slo-mo lead-up to "the honking incident").

Like many people, I grew up in a family where long annual car trips were a given. But is familiarity of experience enough to carry a two-hour play?

On the basis of "Iowa," I'd argue "no." For just as the Brownings' stop at the exotic-sounding Ghost Caverns fails to live up to the hype, "Iowa" never manages to be more than a well-produced nostalgia trip.