Posted on
Fri, Jan 27, 2012 : 1:08 a.m.
Yeehaw! Ann Arbor Civic Theatre saddles up successful 'Much Ado About Nothing'
By Roger LeLievre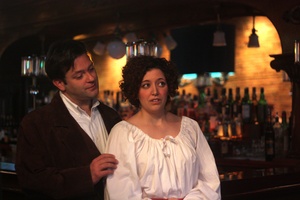 Photo by Tom Steppe
Hey there, pardner … there have been a few changes in these here parts when it comes to Ann Arbor Civic Theatre's production of Shakespeare's beloved comedy "Much Ado About Nothing."
For one, the show-directed by Cassie Mann—has been reimagined in the American West of the 19th century. Cowboy hats and fancy dresses abound. And that's not all. Governor Leonato has morphed into Miss Leona, proprietor of Miss Leona's saloon, where the show's action unfolds (think Miss Kitty on "Gunsmoke" and you've got the idea). That gender switch leaves the door open for another romance to bloom, this one between Miss Leona and Pedro, the town marshal.
Other than a few other minor changes, the story is the same. Beatrice and Benedick continue to bicker. Claudio still falls in love with Hero and plans to wed her, while deputy marshal Dogberry saves the day by overhearing a plot to keep the young lovers apart. Happily, the changes don't distract, and even add some opportunities for laughter.
There was a lot to like at Thursday's night's sold-out opener at the Arthur Miller Theatre on the University of Michigan North Campus. Several strong performances propelled the show, not the least of which was James Ingagiola as a commitment-phobic, acid-tongued Benedick straight out of the Kenneth Branagh mold. He was perfect in the role, as was his opposite, Heather Liebal as the equally marriage-shy, quick-witted Beatrice.
Artun Kircali brought panache to his portrayal of fresh-faced Claudio and Meredith Deighton's Hero was also engaging, the perfect match for her beau. Chrissie D'amoto's Miss Leona showed plenty of backbone dealing with the men around her, and Rob Roy's Marshal Pedro' also offered a nuanced performance.
Jon Elliott as Dogberry, Pete Richards as his irrepressible right-hand man Verges and Thom Johnson as Rev. Francis were standouts in their supporting roles. Ken Karges brought plenty of passion to his performance as John, Pedro's estranged, bitter half-brother.
The scene where the plot is hatched to discredit Hero in the eyes of Claudio was nearly flawless.
The costumes really helped evoke the setting, with the colorful gowns looking especially lovely. Credit costume designer Kevin Leistner for that achievement. I also loved the broadly done accents and the touches of country music that helped set the scene.
All in all, this is a fun outing. The icing on the cake was cast members offering some fancy country dancing before taking their bows. I won't spoil the surprise, but the tune that ends the show sums things up perfectly. Yeehaw!
"Much Ado" continues through Sunday. For more information, see the AnnArbor.com preview article.