Posted on
Wed, Mar 9, 2011 : 11:49 p.m.
No reservations about Ann Arbor Civic Theatre's engrossing 'Doubt'
By Jenn McKee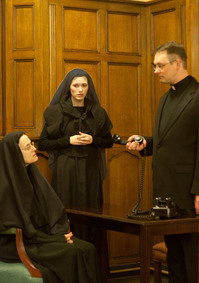 Photo by Tom Steppe
Of people who suffer in isolation, Father Flynn - the priest-under-fire in John Patrick Shanley's "Doubt," now being presented by Ann Arbor Civic Theatre - says, "Only God knows their pain, their secrets."
And while one might presume the statement applies to those who suffer illness or who feel remorse for their wrongdoings, it may also relate to those who appoint themselves God's policeman, and thus view the world as a place where evil lurks around every corner.
Sister Aloysius (Liz Greaves-Hoxsie), the principal of a Bronx Catholic school in 1964, is one such individual. She rails against signs of change and progress - including ballpoint pens and humanistic pedagogy - despite the fact that the church's traditional, long-established infrastructure severely limits her own power to seek justice.
Specifically, when Sister Aloysius suspects Father Flynn (John Hill) of having an inappropriate relationship with the school's first, and only, black student, her only options are to report her concerns to the monsignor, who thinks the world of Flynn; or quietly pursue the matter herself, by confronting Flynn in a roundabout way, and talking to the student's mother (Dorothy Burrell).
Shanley's script is airtight and sturdy, and director Matt Martello and his cast generally do it proud. (The performance I watched was the production's final dress rehearsal.) Kimberly Elliott is affectingly conflicted as Sister James, a young, idealistic teacher at the school whose compassion and warmth counter Sister Aloysius' coolly rational cynicism.
But Greaves-Hoxsie must necessarily anchor the show, and she does so (appropriately) with great conviction. In A2CT's "Doubt," Sister Aloysius never veers into caricature, yet her archer moments earn laughs, and rightfully so, thanks to Greaves-Hoxsie's restraint and Martello's guidance.
The 90 minute, intermissionless production does have a couple of small rough spots, however, from a staging perspective. Sister Aloysius bodily reaches across Father Flynn to find sugar in her desk drawer, though I can't imagine this strict nun's sense of propriety allowing that, even if wanted to make him uncomfortable or self-conscious; occasionally Elliott and Greaves-Hoxsie spoke too softly in the play's early scenes; and the blocking, in terms of execution, during the final showdown scene between Father Flynn and Sister Aloysius felt mechanical.
The stage, meanwhile, offers a sparse set (designed by Martello and Mishael Bingham, with props by Michael Rudowski), consisting of a pulpit upstage right; Sister Aloysius' desk, three chairs, and a small filing cabinet upstage left; and a stone bench, as well as a segment of a stone fence, suggesting an outdoor courtyard downstage. Overall, the large stage looks kind of barren, but "Doubt"'s drama is so engrossing, you probably won't notice it all that much.
Nick Spencer's lighting design, meanwhile, helps distinguish the different locales; Julian Jocque provides the show's sound effects; and Penny LaMauvais designed the costumes.
One of the terrific things about "Doubt" is that because it's not a "whodunit," but rather a well-written, well-constructed "did he do it?" show, previous exposure to the play (or the film adaptation) takes absolutely nothing away from the experience of watching it again. In fact, a second or third viewing allows you to take in even more of the sharp script's echoes and nuances, which is its own distinct pleasure.
For the driving force of "Doubt" isn't, ultimately, suspense. It's curiosity.
Jenn McKee is the entertainment digital journalist for AnnArbor.com. Reach her at jennmckee@annarbor.com or 734-623-2546, and follow her on Twitter @jennmckee.