Posted on
Sat, Mar 16, 2013 : 8:39 a.m.
Ann Arbor Symphony takes listeners on a trip to far-off lands
By Susan Isaacs Nisbett
Dreary March in Ann Arbor is not a bad time for a trip abroad. Anyone looking for a transporting experience in town, though, could have done no better than the Ann Arbor Symphony Orchestra's "Scheherazade" program Friday night at the Michigan Theater.
Just as the "Arabian Nights" stories whisked readers off to exotic adventures, so, too, the did orchestra succeed on Friday in placing us elsewhere while we were fixed in our seats: most of all in Rimsky-Korsakov's Arabian Nights-inspired symphonic suite "Scheherazade," which gave the program its title; but also in Evan Chambers' "Crazed for the Flame," which opened the program; and in the Elgar Cello Concerto, with cellist Amit Peled as soloist. With their decidedly Eastern flavor, "Crazed for the Flame" and "Scheherazade" were an inspired pairing and a terrific frame for the concert.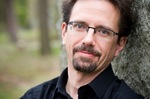 Sufi music inspired Chambers to create this incantatory piece, with its infectious rhythms, frequent syncopations and strophic form. Verse and chorus alternate via orchestral solos and tutti that echo each other; repetitions are insistent and mounting, spiraling forcefully higher till they consume themselves in a virtual cannonade of sound. Music Director Arie Lipsky led a stirring performance of the piece; Chambers, chair of the composition department at the University of Michigan School of Music, was on hand to receive the accolades of the crowd.
If the Chambers' piece was new to the audience—he created it in 2001 for the Detroit Chamber Winds and Strings and then completed a full orchestral version for the U-M Philharmonia Orchestra in 2005—Rimsky-Korsakov's "Scheherazade" has had more than 100 years of musical life to become familiar. Even if this was your thousand and first hearing of the piece, Friday night's performance would have seemed fresh.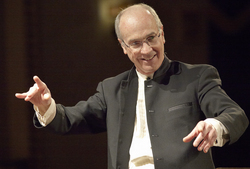 courtesy of the Ann Arbor Symphony Orchestra
Lipsky's pacing was inspired: all the music's dance was there, and if he permitted the music to unroll on its own terms, spaciously, it never spilled into distortion. And the playing was color-filled and utterly enchanting: from the orchestra as a whole; and from soloists within it like Concertmaster Aaron Berofsky—entrusted with intoning the sinuous strains of the Sultana Sheherazade as she begins and ends a tale. The winds, especially clarinetist Brian Bowman, bassoonist Eric Varner and flutist Penelope Fischer, were particularly remarkable, phrasing with ineffable liquid beauty.
The Elgar Cello Concerto transports to a less happy place than either of the works that framed it Friday. In 1919, the year of its composition, the world, and England and Elgar, too, were still reeling from World War I. The concerto, autumnal in feeling, bears witness to the war's emotional toll and to the end of an era.
Peled's playing, resonant and deep and direct, was eloquent and affecting. Early on, his body language was distracting, but as he settled in, he quieted physically, letting the music speak for him and to us. His encore, simple, direct, and evocative, was a movement from Joachim Stutschewsky's "Hasidic Suite."