Posted on
Sat, Dec 8, 2012 : 12:43 a.m.
Ann Arbor Symphony's first Holiday Pops a festive musical treat
By Roger LeLievre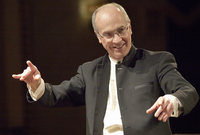 courtesy of the Ann Arbor Symphony Orchestra
What did you think of the concert? Leave a comment and/or vote in the poll at the end of this post:
Ann Arbor received an early Christmas present Friday night, thanks to the Ann Arbor Symphony Orchestra's first-ever "Holiday Pops" concert.
It was truly a festive occasion, with not only the A2SO on the Hill Auditorium stage, but the men's choir Measure for Measure and the choirs of Huron and Pioneer high schools at various times as well.
Even Santa was in the house, accompanied by some really tall green-and-red clad elves, later revealed as members of the University of Michigan Men's Rowing Team. Conductor Arie Lipsky looked dapper in a Santa hat, revealing that he donned it on a challenge, thus winning $20.
If you get the feeling that this was a light-hearted event, you're right. And really, if you didn't have the Christmas spirit when the concert began Friday, there was no excuse for not feeling in the mood when the show ended.
The program, clearly designed to please and understandably more classical than commercial, included four excerpts from Tchaikovsky's "The Nutcracker," Strauss' "Overture to "Die Fledermaus," the familiar "Blue Danube" and Vaughn Williams' "Fantasia on 'Greensleeves.'"
Leroy Anderson's audience-pleasing "Sleigh Ride," with a choral component, was delightful, as was his "A Christmas Festival" that opened the concert.
Measure for Measure provided the vocals for the beautifully arranged and performed "Christmas Trilogy" ("I Saw Three Ships," "What Child is This?" and "God Rest Ye Merry Gentlemen"), while the excellent high school choirs combined for the "Hallelujah" chorus from Handel's "Messiah" as well as the show-closer, "Let There Be Peace on Earth," especially appropriate given current events.
"It seems like we need it more than ever," Lipsky said by way of introducing the song.
In keeping with the concert's family-friendly theme, there appeared to be quite a few children in the audience, though some looked to be up past their bedtimes.
"It's nice to see something more fun from the Symphony this time of year," observed Ann Arborite Jim Fuester during intermission. "To me it broadens the appeal." Gail Treece of Belleville said she always enjoys hearing Christmas music played by a symphony, as opposed to the more commercial holiday fare heard in malls and elsewhere this time of year.
Given its enthusiastic reception, this is clearly a welcome addition to the area's holiday tradition. Despite events Friday night in neighboring Power Center, Rackham AUditorium and Lydia Mendelssohn Theatre, Hill Auditorium was nearly full, attesting to the desire for this kind of family fare.
Spotted in the lobby at intermission, A2SO Executive Director Mary Steffek Blaske said the group was pleased with the turnout and affirmed that the pops concert will return next year. So, happily, Friday's debut looks likely to be the gift that keeps on giving.