Posted on
Fri, Nov 4, 2011 : 12:48 a.m.
Apollo's Fire, Philippe Jaroussky enchant at Hill Auditorium
By Susan Isaacs Nisbett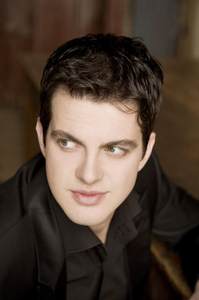 When a singer arrives to present an evening of arias, the accompanying orchestral ensemble can sometimes function as a sort of relief pitcher, playing on its own while the singer takes a break off stage.
But the American baroque ensemble Apollo's Fire, arriving in town to accompany the French countertenor Philippe Jaroussky at Hill Auditorium last night, in a concert presented by the University Musical Society, proved every bit as alluring as the singer himself.
It turned out there were as many "Handel and Vivaldi Fireworks," as the concert was billed, in the instrumental music as there were in the vocal selections.
In fact, it could be argued that one of those instrumental selections, Vivaldi's "La Follia," was an evening high point. Apollo's Fire Music Director Jeannette Sorrell had arranged it for the entire band - as a sort of jam session, as she put it - from Vivaldi's trio sonata of that title. With Sorrell leading from the harpsichord, as she did most of the evening, the ensemble played these variations, based on a "Renaissance pop tune," with brio and style and more than a hint of the madness the title implies. It was delicious.
Throughout the evening, Sorrell was a fine host, stepping forward from time to time to introduce selections or situate them in context. She was also a fine director. In the orchestra's first selection, another Sorrell-Vivaldi arrangement, the players seemed a little lethargic in catching up with the tempo changes she indicated. But it was precisely the plasticity of the group's music making throughout the evening, along with its dynamic and coloristic sensitivity, that gave its Handel and Vivaldi so much character.
Jaroussky was a soulmate in many ways. By and large, vocal color was not the point of his singing in this repertoire, but if pure, angelic sound was your thing—or high-flying coloratura—then Jaroussky was your man. He showed he had the goods in his opening number, Handel's "Agitato da fiere tempeste," from the opera "Oreste," taking its note-filled rollercoaster ride at speeds that would make the Cyclone look tame.
I think it's possible to wish for more of a line in some of his coloratura, to go along with its accuracy and agility, but there is little to wish for in the way of improvement in his lyrical singing. In his Handel "Ho perso il caro ben," he showed how he could be tender and intimate with his sound, making Hill Auditorium seems small. He floated the high notes in Vivaldi's "Se mai senti spirati sul volto," and his final encore, Handel's "Ombra mai fu," from the opera "Serse," was a thing of beauty.
His first two encores were, respectively, Porpora's "Alto giove" from "Polifemo" and Handel's "Venti turbini" from "Rinaldo."