Posted on
Sat, Nov 5, 2011 : 1:17 a.m.
Broadway's Audra McDonald enchanting in Friday night's Hill Auditorium performance
By Roger LeLievre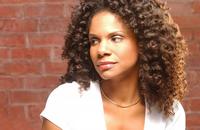 photo by Eddie Malluk
I have been fortunate enough to see Audra McDonald in her three previous visits to Ann Arbor, and she has never failed to enchant. She wove the same spell with her performance Friday night in Hill Auditorium.
The four-time Tony Award winner has that rare ability to totally inhabit every song she sings and every character she sings about. She can go from girlish and flirtatious one moment (the vampy "I Double Dare You") to fighting back tears (the heartbreaking Sept. 11-inspired song "I'll Be Here" by Adam Gwon). Blessed with a honeyed, multi-octave soprano, McDonald also has amazing audience rapport, which she used to offer a bit of backstory for the songs performed in her nearly two-hour program, presented by the University Musical Society.
Backed by trio of Andy Einhorn (piano), Mark Vanderpoel (bass) and Gene Lewin (drummer), McDonald's program included works by better-known composers such as Kander and Ebb, Irvin Berlin and Jule Styne, but also up-and-comers she admires, such as Gabriel Kahane and Adam Guettel.
Kahane's three-tune "Craigslistlieder," with lyrics taken from Internet personal ads, was flat-out funny, while Guettel's "Migratory V," which McDonald dedicated to her late father, plucked at some pretty emotional heartstrings. It was the only time during the night she took to the piano, saying that it was one of her father's wishes that she play the instrument more often in concert.
More than once during the show, McDonald touched on themes of anti-bullying and human rights, and offered the Gershwin's "He Loves and She Loves" in the name of marriage equality. She also had some kind words to say about the University of Michigan's musical theater department.
"When I travel and people ask me where to study musical theater, the first place I mention is the University of Michigan," she remarked, much to the delight of the students, quite possibly from that very program, seated down front.
Although McDonald will open on Broadway in December as Bess in "Porgy and Bess," she didn't include any selections from the iconic American musical in Friday's program. "There's nothing to sing by myself because Bess doesn't have any solos. She's got great duets," McDonald offered by way of explanation. She also used the moment to drop in a reference to composer Stephen Sondheim's criticism of the current production in a now-infamous letter to The New York Times, saying "it's all fine" between them now, before offering his "Moments in the Woods"
Other highlights of the program included the 1922 gem "My Buddy," Lerner and Loewe's "I Could Have Danced All Night" (with robust audience participation) and the lullabies "Whose Little Angry Man Are You?" (from "Raisin in the Sun") and "Baby Mine" (from Disney's "Dumbo"). Absolute silence reigned for the poignant Styne-Comden-Green tune "Make Someone Happy," followed by the life-affirmingly jaunty "Ain't It De Truth."
As her set came to a close, the audience seemed to rise as one for a prolonged and welll-deserved standing ovation, after which McDonald came back out to deliver the inspiring "Some Days," with music by Steve Marzulo and lyrics from James Baldwin.
All in all it was a night to remember. My only concern—when is she coming back? McDonald is one of those rare performers who is absolutely not to be missed.