Posted on
Sat, Jun 29, 2013 : 8:07 a.m.
Performance Network's 'Becky Shaw' explores challenges of love
By Susan Isaacs Nisbett
Note: the story has been changed to correct the age of one of the characters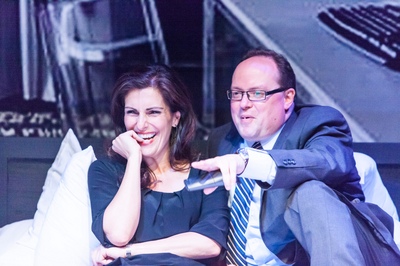 photo by Sean Carter | courtesy of Performance Network
What's love got to do with it?
When it comes to romantic relationships - or, heck, even families, why not? - it all depends on how you construe the L Word. In one way or another, just about every damaged character in playwright Gina Gionfriddo's dark, mordant "Becky Shaw," a Pulitzer Prize finalist that opened Friday night at Performance Network, has the same transactional definition of the word: Love is the coming together, as one character says, of two people, each of whom has something the other person wants.
How Gionfriddo's fivesome jockey and connive—verbally and psychologically—to get that something is the play's strong suit, but it's one the players and director Phil Powers reveal only intermittently in this production.
The play focuses on a dysfunctional family and a blind date gone more wrong than most. Susan (Dorrie Peltyn), who has MS and a serious case of acerbic attitude as well as a feckless boyfriend, is a recent widow; her husband apparently has left a financial mess and other mysteries in the wake of his death. Her daughter, Suzanna (Sarab Kamoo), is still distraught about her father—and mad at just about everyone, it seems. No way she, her sarcastic adopted brother, Max (David Wolber) or her mother can even agree over how long ago dad died: one says 3 months, another 6 months, another a compromise 4.
Beyond the date of dad's death, Suzanna and Max clearly have never sorted out their feelings for each other; the complications only grow when Suzanna, clueless about herself but now studying to be a clinical psychologist, of course, marries Andrew (Keith Kalinowski). A barista-poet, Andrew's a hopelessly nurturing soul who brews up trouble when he sets up Max with the play's title character, the not-as-helpless-as-she-seems and seriously troubled Becky Shaw (Maggie Meyer).
In two acts played out in bedrooms, living rooms and cafes, all with black-and-white photo backdrops in Monika Essen's set design, the characters trade secrets and lies and lots of zingers. They ricochet off one another, constantly repositioning themselves as the balance of power shifts.
If Gionfriddo has lots of serious stuff to say about love and marriage—and dysfunction, social class and moral character—she leavens the dough with shooting-star barbs and witty repartee. And that's where things fall short for now in this production.
Suzanna is 35, but Kamoo plays her as a harridan in the making, rather than a neurotic; she's constantly in a tantrum. And opposite her, Wolber, making a Performance Network acting return after six years directing, is a little leaden and heavy footed as Max. There was little chemistry between the two, and a fair amount of stepping on lines Friday—that may change as the run goes on; still, lots of the bon-mot lines Gionfriddo gives the pair would gain the loft needed to power this play if they were lobbed rather than hurled instead.
Peltyn finds a good psychological place and pace with her clear-eyed, tell-it-like-it-is Susan, and Kalinowski's softie of an Andrew, if occasionally overdrawn, has lots of heart.
Most expertly painted is Meyer's Becky, at once psychologically delicate and quite strong, sad and snappy. She translates her character's contradictions with vocal nuance, fine timing and fluttering hands. And as a character, Becky's the one to keep your eye on. She's not the title character for nothing; she doesn't get as much stage time as Suzanna or Max, but she's the primum mobile, and everything circles back to her in the end.
"Becky Shaw" continues through July 28 at Performance Network. For tickets, see the website.