Posted on
Sun, Feb 10, 2013 : 8:26 a.m.
Blues at the Crossroads honors Muddy Waters and Howlin' Wolf in fine form
By Will Stewart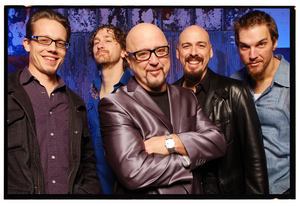 What did you think of the concert? Leave a comment and / or vote in the poll at the end of this post:
Harmonica great Kim Wilson and some of his friends got together at the Michigan Theater on Saturday to remember two giants of the blues, Muddy Waters and Howlin' Wolf.
And the jam session that ensued did the two pioneers proud. Wilson and his Fabulous Thunderbirds—as well as blues veterans Tinsley Ellis, James Cotton, Jody Williams and Bob Margolin—treated fans to nearly three hours of the blues, as well as a handful of memories of Waters and Wolf, neither of whom was a stranger fo Ann Arbor.
"Ann Arvor is always a favorite in blues history, because of the wonderful festival you had here, " said Margolin, a guitarist, who appeared with Waters at the Ann Arbor Blues and Jazz Festival during the early 1970s. "We remember all the great blues musicians who played here at the Ann Arbor festival and found such a soulful audience."
Indeed, the best part about Saturday's Blues at the Crossroads 2: Muddy and the Wolf concert was the opportunity to see and hear blues men with bona-fide ties to Waters and Wolf still plying their musical trade at such a high level.
Cotton, the harmonica virtuoso, who played with Watters throughout the 1950s, can still blow the reeds out of a harp. His spotlight set found Cotton, at 77, still in full command of his instrument, as he let the Thunderbirds through the paces.
Williams, whose guitar can be heard on signature tracks by Wolf, as well as Bo Diddley and other Chess Records artists, started out a little rusty, but soon found his groove during a handful of numbers.
But it was Margolin, still active with his own bands and now an elder statesman of the blues in his own right, who provided the evening's real sparks. Offering a clinic on Waters' signature slide-guitar sound during the first set, he then let the sparks fly during the second set as he, Wilson and Cotton got down and dirty on the Waters chestnut "Sad Letter Blues."
As Cotton moaned into his harp and Margolin stretched notes out with his steel, you could almost feel Waters' presence on the stage.
In the end, both Waters and Wolf were well represented, with various combinations of the artists rolling through such standards as "Rollin' and Tumblin," "Spoonful," "I Got My Mojo Workin,""Mannish Boy" and "How Many More Years."
It was a blues lover's paradise, and Wilson was a generous MC, giving plenty of spotlight to his guest stars, while seldom missing an opportunity to showcase his own remarkable harp skills.
And the latest iteration of his long-running Fabulous Thunderbirds proved a fine backing band, leaving plenty of space for the stars, and ably adapting to Wilson's impromptu musical direction.
A special treat was a guest appearance by Ann Arbor's very own George Bedard, whose big, round solos on his hollow-bodied Gibson provided a nice counterpoint to an otherwise occasionally shrill all-Fender guitar attack.