Posted on
Fri, Apr 15, 2011 : 4:40 a.m.
Review: Kilts a-plenty, plus loads of talent in U-M theater department's enchanting 'Brigadoon'
By Roger LeLievre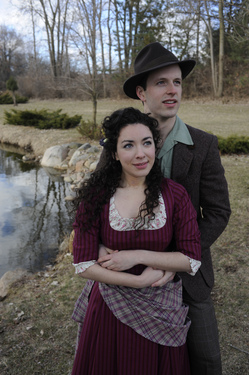 photo by Peter Smith Photography
Aye, 't was a bonny "Brigadoon" that opened Thursday night at Power Center, performed with a near-magical touch by students from the University of Michigan Department of Musical Theatre and deftly directed by Linda Goodrich.
Alan Jay Lerner (book and lyrics) and Frederick Loewe's (music) first theatrical collaboration tells the story of a quaint Scottish town that emerges from the mist for one day every 100 years. When Tommy and Jeff, on vacation from the United States, stumble upon the town, the former falls in love with lovely local lass Fiona, forcing him to choose between the life he left behind or love in uncertain circumstances.
The set is sparse, yet it has an inviting warmth that drew me in. The costumes, with tartans representing six Scottish clans, are exquisite (credit costume designer Shawn McCulloch). And there are kilts a-plenty, which would have pleased my part Scots grandmother who, when she got excited, often lapsed into the kind of Scottish burr the cast did such a good job affecting.
The dancing seemed complicated. yet confidently executed. A huge bravo to choreographer Mark Espositio and his charges, who kicked up a mean Highland fling. The wedding scene where the men danced around their sabers was especially well done, and drew a well-earned round of applause.
Joe Carroll and Will Burton (Tommy and Jeff) show a comfortable camaraderie portraying opposite types. Tommy is clearly open to the idea of a place such as Brigadoon, while Jeff plays his more cynical opposite, with Burton displaying a flair for comedic/sarcastic delivery. Both sing beautifully, and the duets that team Carroll and Holland Mariah Grossman (Fiona), especially "Almost Like Being in Love," are some of the show's loveliest.
Dereck Seay makes a terrific about-to-be wed Charlie Dalrymple; his bravura version of the signature "I'll Go Home With Bonnie Jean" was a highlight of the first act. Grace Morgan's portrayal of Meg Brockie is also memorable, thanks in part to her spunky version of "The Love of My Life."
A bagpipe player outside Power Center before the show began helped set the mood; the instrument was also employed in the second act during the funeral dance with its dramatic solo from Laura Irion. The program listed two pipers, Christopher Gullen and Colin Brown - you guys did a great job with what can be a difficult instrument to enjoy if poorly played.
During the lavish wedding scene I had to remind myself that cast members really were students, so professional were they in their performance, a trait audiences have come to expect from the U-M musical theater folk.
"Brigadoon" is an old-fashioned a romance with a happy ending and, especially with this production, there's nary a thing wrong with that. Those lucky enough to a score a ticket for the remaining shows (so many seats were sold early that another performance was added) are in for an enchanting Scottish treat.
"Brigadoon" continues Friday at 8 p.m.; Saturday at 2 and 8 p.m.; and Sunday at 2 p.m. in Power Center. Call 734-764-2538 or visit www.music.umich.edu. The best remaining seats are for the recently added Saturday matinee.