Posted on
Sat, Oct 22, 2011 : 7:41 a.m.
Cloud Gate Dance Theatre creates some memorable moments
By Susan Isaacs Nisbett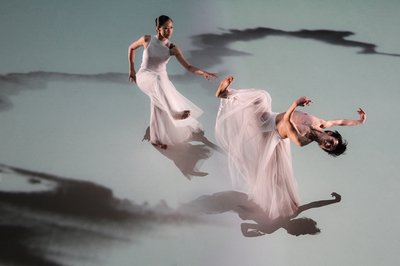 To home handymen, water stains on the wall are cause for concern. There's leakage afoot somewhere, seepage leaving its ugly mark. To choreographer
Lin Hwai-min
, water stains on the wall are not about blight and plaster, but about swirling natural beauty and plasticity. He gives his evidence in "Water Stains on the Wall," the 2010 dance his company, Cloud Gate Dance Theatre of Taiwan, presented Friday evening at Power Center.
The company of 15, appearing here under University Musical Society auspices, repeats the dance again tonight.
The dance's title refers to a legendary conversation about calligraphy between master practitioners; they say they find inspiration in flowing, evolving, natural forms - water stains as much as billowing clouds or flying birds.
Lin takes the idea and has his dancers vivify it. He sets them, in flowing white pants with a chiffon overlay (costumes by Lin Ching-ju), on a white platform tilted toward the audience and framed all around in blackness. Lighting projections, from palest gray to darkest black, flit across the surface - clouds scudding, inks flowing in magnificent calligraphic chiaroscuro. The dancers, who never touch, swirl like the inky projections, their movements rooted in martial arts stances.
The dancers are beautiful in their control. The motion is often slow—in this it is allied with the Japanese butoh dance style—and between rare, emphatic martial moments and exhalations, it is the utmost in fluidity—what starts with a shift in balance spirals through the body to emerge equally in finger and foot.
The dance is divided into sections, from solos to large ensembles, and lasts a little over an hour. It unrolls to a spare, elegant score assembled from compositions by Japanese composer Toshio Hosokawa. Even though the movement is constantly evolving and probably never twice the same, it seems rather unvarying, so that if there is any dramatic arch, it is delivered by Hosokawa's music, rising to cataclysmic urgency about two-thirds of the way through the dance; and by the lighting effects (Lulu W.L. Lee) and projection design (Ethan Wang).
After a group opening, a single dancer, Su I-ping, has the stage to herself; the dance ends with another single female dancer, slowly walking diagonally downstage toward the blackness of the wing. But that framing device holds no dramatic content.
If the movement, miraculous as it was in both design and execution, became somewhat numbing over the course of the hour, the dance itself held magic moments. One is that opening ensemble, with all 15 dancers arrayed on the tilted platform, like figures on one of those pop-up cards. They face us in rows, still in the total silence and then … maybe not still. They are swaying, ever so slightly, as if on a deck rocked by gentle waves. The sway gives way to the bend of a knee, the extension of a leg, a movement forward. They are anchored to the ground and yet—particularly as Hosakawa's music begins, with a thin string of sound—they seem suspended from above, perhaps by that very string. It is a potent effect.
Equally memorable are moments where light and shadow play their tricks. A woman sinks to the ground, and as she lies there, her gauzy white trouser-skirt blends with the white flooring; the lower half of her body disappears into the platform. She is there and not there. Later, as inky, black clouds hurtle across the platform, propelled diagonally upstage by what seem fierce winds, the dancers disappear as if in a storm, illuminated flickeringly, like apparitions. It is in these allusive moments that the dance writes its story best and most indelibly.
Cloud Gate Dance Theatre performs again tonight (Oct. 22). For more information, see the AnnArbor.com preview article or the UMS website.