Posted on
Sun, Nov 18, 2012 : 8:14 a.m.
Dave Holland showcases the power of big-band swing at the Michigan Theater
By Will Stewart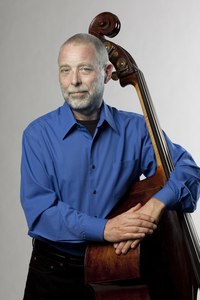 What did you think of the concert? Leave a comment at the end of this post:
A veteran of some of the most pioneering jazz of the past 50 years, Dave Holland showcased his more-conventional side during a spirited date with his Big Band at the Michigan Theater on Saturday.
That doesn't mean Holland's 13-piece band didn't blow like mad and swing like crazy during its 90-minute performance.
It's just that the performance had an urbane and sophisticated sheen that served as a showcase for the band's intricate ensemble playing, while still finding room for everyone in the brass-heavy, highly rhythmic arrangements.
Holland, who has played in bands led by Miles Davis and Sam Rivers, among others, is a magnanimous leader. On Saturday, during a return engagement as a leader in a University Musical Society performance, he turned most of the spotlight over to his younger band mates.
And with a three-saxophone, three-trombone, three-trumpet horn section, that left plenty of opportunities for combinations.
Easing into the set with Holland's own "Upswing," the band established a swinging, mid-tempo groove that set the scene for most of the rest of the show, showcasing a honking, baritone-sax solo by Frank Basile and a delightfully jagged turn from vibraphonist Steve Nelson.
"Everyone solos, so you're going to get to know them pretty well, " Holland said by way of introduction.
With that pattern set, the band breezed through seven numbers, underpinning countless solos with a lush, harmonic wall of sound that frequently evoked a smart, mod-ish 1960s vibe.
By the time the band swung into its set-closing "Free For All," it was firing on all cylinders, with the band clearly having a blast trading licks and stretching the tune out to well over 10 minutes.
Alto saxophonist Mark Gross stood out among his peers with a handful of urbane solos that were graced with a fluidity that was a perfect foil for his counterpart, altoist Antonio Hart, whose attack was more stabbing. Special notice, too, to trombonist Jon Arens, and tenor saxophonist Marcus Strickland, both of whom blew memorably.
Not to be outdone, Holland and his rhythm-section partners played as a cohesive unit. Drummer Nate Smith was the band's secret weapon, laying down an inventive and insistent backbeat that never competed for attention during solos.
And when he did take a solo, Holland was the picture of taste and restraint, offering gorgeously textured figures usually to open a number, only to turn over the proceedings to the rest of the band. If anything, Smith was under-utilized, his brief solo turns providing only a glimpse of a remarkable talent.
Sadly, too many of the concert's nuances were swallowed up it a hollow sound mix. We moved about the theater trying to find a sweet spot, only to be foiled in our quest for a coherent house sound.
Fortunately, this wasn't an issue for Holland and his band, whose playing triumphed over any technological limitations to shine during this brief-yet-buoyant command performance.