Posted on
Sun, Nov 4, 2012 : 8:36 a.m.
Edgefest overcomes 'superstorm' complications to deliver amazing celebration of creative jazz
By Will Stewart
Like any great jam session, Edgefest 2012 was an exercise in collaboration and improvisation.
The celebration of creative improvisational music—a staple at the Kerrytown Concert House for 16 years now—wrapped up Saturday, concluding a four-night, multi-genre extravaganza the same way it began: with two master musicians brilliantly playing off one another to create music that's as beautiful as it is unusual.
In this case, it was saxophonist-clarinetist Marty Ehrlich and pianist-accordionist Hankus Netsky, who, performing as Fables, use the template of traditional Jewish music to create gorgeous music that sounded at once ancient and brand new. Edgy and impossibly catchy, the duo's modern folk songs sounded like what might happen if Gershwin were to score a Fellini film.
It was a playful and entirely appropriate way to close out a festival whose schedule had been disrupted by Hurricane Sandy's impact on air travel.
Yet despite the necessary cancellation of saxophonist Rudresh Mahanthappa's trio and bumping pianist Fred Van Hove's appearance back a few days, most everything fell nicely into place, while allowing for some moments of spontaneity unusual even by Edgefest standards.
Playing an expanded set due to Mahanthappa's absence, bassist and composer Ben Allison and his quartet played like it was Friday night during a Thursday set, absolutely blowing the roof off the concert house with a two-guitar fusion attack that veered seamlessly from post bop to hard rock and even funk. Allison is a top young composer and his band, anchored by Allison Miller on drums, was as fun to watch as it was to hear.
Violinist/composer Jason Kao Huang was one of many musicians pulling double and triple duty, performing a fascinating set of his own dense compositions with his with his Edge quartet Wednesday, then regrouping with the quartet, as well as Edgefest curator and mezzo-soprano Deanna Relyea and reedman Piotr Michalowski, to perform the Midwest premier of his own "Lifelines" composition. Relyea's delivery of contemporary poems was both eerie and playful, while Michalowski added an delightful airiness to Hwang's group. The Ann Arbor-based Michalowski showed once again his ability to hold his own with any of the world-class musicians Edgefest brings to town.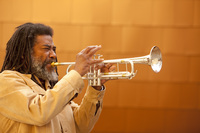 Of course, the real star of Edgefest 2012 was the legendary trumpeter Wadada Leo Smith, who not only performed four different sets during the festival, but also worked with local jazz students and let the annual jazz parade through Kerrytown on Saturday.
Smith and his quartet, featuring Ann Arbor native John Lindberg on bass, performed Smith's epic "Ten Freedom Summers," in two parts on Friday and Saturday. The dense and difficult work chronicles the history of the civil rights struggle. At 70, Smith is as creative as ever and his playing, particularly in the company of a simpatico collaborator like Lindberg, was riveting.
But it was Smith's performance at St. Andrew's Episcopal Church with the University of Michigan Creative Arts Orchestra that found the trumpeter at his best. Really able to blow in the larger confines of the church, and with the robust backing of the multi-piece ensemble, Smith filled the space with a joyful noise that, to us, was a high point in a festival that wasn't without its share of magical and unexpected moments.