Posted on
Thu, Nov 1, 2012 : 9:15 a.m.
Edgefest copes with Hurricane Sandy complications, improvises an outstanding start
By Will Stewart
There's improvised music. And then there's improvising a music festival.
Even as the Dutch Baars-Henneman trio was playing their first notes to open Edgefest at the Kerrytown Concert House on Wednesday, organizers were still scrambling to shuffle acts, whose travel plans were turned upside-down by Hurricane Sandy.
"We've been on the edge for a few days now, but I suppose that's fitting in a way, said Deanna Relyea, the festival's de-facto curator. "But most everything is going to happen and it's going to be a great week."
Belgian pianist Fred Van Hove was one of Wednesday's scheduling casualties. He was initially scheduled to join the Baars-Henneman Duo, but was delayed leaving Europe. He'll play on Friday evening instead.
Relyea said the only outright cancelation likely will be saxophonist Rudresh Mahanthappa, whose appearance with his trio was one of the most-anticipated sets of the annual improvisational music festival. Mahanthappa was unable to depart Europe to make his date.
"We just had to let that go," Relyea said. "But we're going to make sure that he comes back with that trio."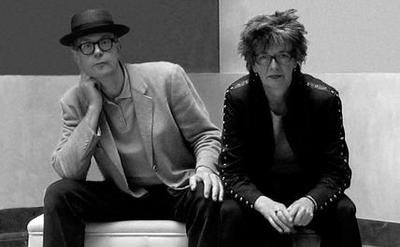 But with improvisation as the watchword, the Baars-Henneman Duo brought its lovely and lyrical compositions to life on Wednesday, displaying a gorgeous harmonic convergence of Ig Henneman's rich viola tones and Baars' breath-y saxophone runs.
The pair is wrapping up a tour and were clearly in sync, playing off one another as they breezed through a half-dozen avant-chamber music compositions that left plenty of room for improvisation.
Following an autumnal theme, the duo drew upon poems by Yeats and Keats, conjuring everything from migrating birds to falling leaves within richly harmonic, wood on-wood arrangements, with Baars switching between tenor saxophone, clarinet and Japanese bamboo flute.
The swinging yin to the duo's earthy yang on Wednesday was Jason Kao Hwang's Edge Quartet, which has become something of a mainstay at Edgefest. A phenomenally talented violinist and composer, Hwang has retained his remarkable quartet, featuring cornetist Taylor Ho Bynum and anchored by bassist Ken Filiano and drummer Andrew Drury.
Between them, the members have played with new-music giants from Anthony Braxton to Henry Threadgill to Nels Cline.
Building dense improvisations over Hwang's complex frameworks, the quartet was almost mathematical as members traded solos and offered insistent accompaniment, frequently building to musical climaxes that as irresistible as they were technically brilliant.
So often technical virtuosity comes at the expense of feel and groove, but Hwang's quartet never lost either during its set on Wednesday. Bynum, in particular, is a major talent and on Wednesday, he blew the roof off without blowing ears out in the concert house's intimate confines.
The quartet will be back at the concert house on Thursday, joined by Relyea, a mezzo-soprano, as well as reedman Piotr Michalowski. To fill the space left by Mahanthappa's cancellation, Relyea said that set and a set by the Ben Allison band would likely be stretched out.
"I just really have to hand it to the musicians, who did everything they could to make it here for Edgefest," Relyea said. "It really is a major miracle that we're able to do this at all."
In fact, Edgefest unofficially kicked off on Tuesday, with an extremely intimate performance by trumpeter Wadada Leo Smith at Encore Recordings.
Smith, who is serviing something of a residency during this year's festival, played solo, using every dimension of his horn, alternately wailing, issuing staccato bursts of notes and even sometimes just blowing and moaning into it.
It was a starkly personal performance, with Smith seemingly laying himself bare as he improvised his way through the 45-minute-long performance. In a lesser artist's hands, such performance might come over as gimmicky or contrived. But Smith coaxed beauty from the chaos.
Like the rest of this year's Edgefest will prove to be, Smith's performance was as improvised as it was satisfying and everything we've come to expect from what is one of the highlights of every year's musical season.
Edgefest continues through Saturday. For more information, see the preview article and the Kerrytown Concert House website.