Posted on
Sat, Feb 9, 2013 : 2:35 a.m.
Encore Theatre offers solid take on 'Joseph and the Amazing Technicolor Dreamcoat'
By Jenn McKee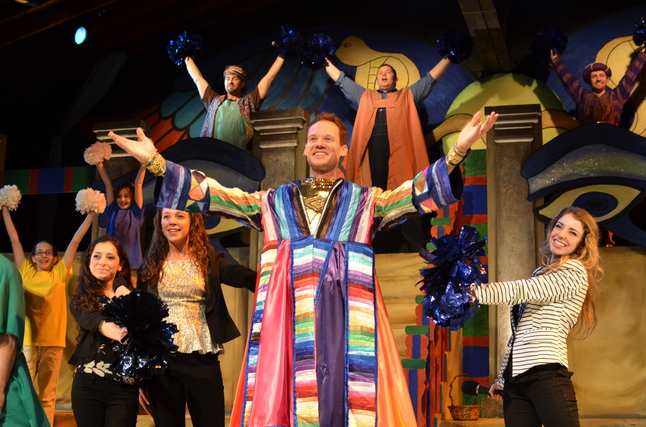 Photo provided by Encore Musical Theatre Company
What did you think of the show? Leave a comment and / or vote in the poll at the end of this post:
Dexter's Encore Theatre is one of the only places I go where, during the course of a show, I may notice a standout performance in a small role and look in the program to find that, oh, that actor (Jon-Erik Goldberg) was part of the original cast of "Mamma Mia" on Broadway. Well, then. That makes sense, now, doesn't it?
Such high caliber artists show up at Encore—now appearing in "Joseph and the Amazing Technicolor Dreamcoat," specifically—because co-founder Dan Cooney, a Broadway veteran performer himself, invites them to. And often, they come.
In addition to Goldberg (who plays one of Jacob's sons, Simeon), Kevin Rose, a New York-based singer, plays Joseph, the favorite son who's reviled by his many brothers in this biblical tale. After Jacob (Michael Szymanski) gives Joseph a many-colored coat, and Joseph interprets a dream that features all of his brothers bowing down to him, the jealous brothers sell Joseph into slavery and fake his death.
Through no fault of his own, Joseph sinks from slavery into jail in Egypt; yet his talent for interpreting dreams provides a ticket out, and Pharaoh (Sebastian Gerstner) grants him a high government position. When Joseph's starving brothers come seeking help, and don't recognize him, Joseph must decide whether to forgive them or avenge himself.
Thousands of productions of Andrew Lloyd Webber and Tim Rice's "Joseph," with its eclectic, multi-genre score, have been staged over the years, in schools and on professional stages and everywhere in between. Yet director Barbara F. Cullen puts her own stamp on it by way of casting three young women (Megan Casey, Madison Deadman, Bryana Dorfman)—who make up the local pop/folk group Sir3n—in the role of Narrator, and by integrating the kids' chorus into various scenes.
Both choices, while intriguing, had mixed results on opening night. The Narrator's vocals are a bear, and while these three young women generally hit the right notes, the strain, in terms of range, was evident at times; and some of their arrangements worked better than others. Yet I'll confess that the unconventional casting choice grew on me as the show progressed, and as the women appeared to gain their footing on opening night.
In terms of the 6 member kids' chorus—there are three rotating casts of 6 in the production—Cullen invites them be part of the show's goofy fun. This works best in small, jokey moments (note the bearded, short Ishmaelites, and the brothers' mention of their last sheep) and big, boisterous numbers like "Song of the King" and "Go Go Go Joseph." (Cullen flirts with preciousness by inserting a feisty young cleaning girl into "Those Canaan Days," but I ended up charmed by this.)
The integration of the kids' chorus into a number like "Close Every Door," however, ultimately lessened its emotional impact, since Joseph usually delivers the defiant song in a moment of profound loneliness; and there's inevitably a lot of repetitive hair-ruffling and face-cradling when the show's adults interact with the kids.
Even so, Rose anchors the show with skill and confidence, not to mention a gorgeous, clear voice. His doesn't make Joseph insufferable, as actors often do, but rather depicts him as a young, immature man who doesn't realize his fortune until it's stripped away from him.
Meanwhile, Goldman and Gerstner do some terrific featured dancing together, and the men's chorus sounds and looks great for the perennial crowd-pleaser "Those Canaan Days."
Cullen's choreography is outstanding, overall, as is Toni Auletti's appealing set. The show's costumes, designed by Sharon Larkey Urick, mostly work well (though Joseph's white overalls distracted me, particularly when I could see them through his white shirt); and Daniel Walker's lighting design, and Thalia Schramm's props, help complete the picture.
The Encore's original mission was to scale down musicals so audiences could focus more closely on the words and the music. "Joseph" mostly achieves that, by way of Jonathan Sills' music direction; but this bare-bones approach also exposes some weird things about the show: Why, after Joseph interprets the baker's dream and the butler's dream in jail, does everyone suddenly appear and sing the uber-peppy "Go Go Go Joseph"? Isn't the transition to Joseph's time with Potiphar clunky, at best? And why does a 90-minute show need an intermission?
I don't know the answer to these questions. But what I do know is that my 4-year-old had a good time; and that even though I've seen the show many times, I nonetheless found myself moved by its last scene—demonstrating that the show's over-the-top moments of camp may only make the painful story at its center all the more resonant.
"Joseph and the Amazing Technicolor Dreamcoat" continues through March 3. For information, see the preview article; for tickets, see the Encore website.
Jenn McKee is the entertainment digital journalist for AnnArbor.com. Reach her at jennmckee@annarbor.com or 734-623-2546, and follow her on Twitter @jennmckee.