Posted on
Sat, Mar 31, 2012 : 2:20 a.m.
Encore Theatre's 'Godspell' will make you a believer
By Jenn McKee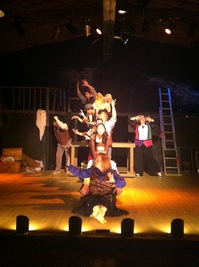 Photo courtesy of Encore Theatre
Gather round, skeptics, and hear the good news: the
Encore Theatre
's production of "Godspell" is a winner.
Cut from the same cloth as another cult hit, hippie era musical, "Hair," "Godspell" is known for its great songs (by Stephen Schwartz); its episodic, non-linear structure; and a "bare bones" script that leaves a lot of blanks for directors and performers to fill in as they go, in a "Choose Your Own Adventure" kind of way.
That's where director (and Encore co-founder) Dan Cooney comes in.
Set in an abandoned, broken down vaudeville theater - beautifully realized by Leo Babcock's set design - the show features a contemporary version of Jesus (Rusty Mewha) relaying a series of parables—largely drawn from the Gospel of Matthew—to his disciples.
Encore's vaudeville theater setting invites the use of different kinds of performance styles, of course, and Cooney and his cast take full advantage, evoking W.C. Fields and "The Godfather" (the latter being a stretch, but a forgivable one); and telling parables by way of a comic ballet, a film noir, a western, and - in one of the production's crowd pleasing highlights - a comic puppet show ("All For the Best"). Dan Walker provided the show's lovely, mood-defining lighting design, and Sharon Larkey Urick created colorful and appropriately theatrical costumes.
Cooney ultimately manages to strike just the right balance, so that there's both an entertaining variety within the sketches and a focused, consistent sense of clarity. (Plus, the transitions in the two hours-plus production are generally smooth.) For this, the director deserves considerable praise, as does his highly talented cast.
For "Godspell" is heavily dependent upon ensemble work, and Encore's team is a knockout. (Yes, a couple of the performers initially seemed uncomfortable using a handheld mic, but this will likely improve during the show's run.) Across the board, the acting and voices are top drawer; and tall, lean Mewha is well-cast as Jesus, physically towering over the disciples while exuding an appealing warmth. Plus, it doesn't hurt that all the actors appear to be having a grand old time.
For example, on opening night, when the actors pretended to be sheep, a "Saturday Night Live"-like moment happened when a few of the performers began to giggle. And the beauty of a loose-limbed show like "Godspell" is that such flashes of spontaneity fit right in without a hitch. (Even when a fire alarm accidentally went off in the second act, at the start of a serious monologue that was still heroically delivered by Mewha, you could sense the audience wondering, "Is this part of the show?")
Barb Cullen's choreography is thoughtful and often fun, and Brian Buckner's music direction is a wonder. (He's a treat to watch/listen to as a performer, too.) Schwartz's beloved songs sound marvelous, thereby tempting even a nonbeliever.
Because if I'm being honest, "Godspell" isn't one of my favorite musicals. Yet even so, Encore is clearly offering up what's likely to be one of the clearest, best-sung, most affecting productions of the show you're likely to see.
I'll happily testify to that.
"Godspell" continues through April 22. For tickets, see the Encore website.
Jenn McKee is the entertainment digital journalist for AnnArbor.com. Reach her at jennmckee@annarbor.com or 734-623-2546, and follow her on Twitter @jennmckee.