Posted on
Fri, Nov 11, 2011 : 7:30 a.m.
U-M Opera Theatre presents a spirited 'Falstaff'
By Laurel Firant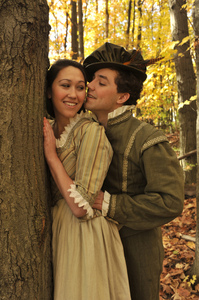 photo by Peter Smith Photography
The University Opera Theatre once again breathed new life into a classic with its production of Giuseppe Verdi's "Falstaff."
Composed when Verdi was 79 years old, the comic masterpiece was his last opera. Arrigo Boito's libretto features the notorious old character from William Shakespeare's "The Merry Wives of Windsor" and "Henry IV," and the work was first performed in 1893 at La Scala in Milan, Italy.
Sir John Falstaff came alive on the Power Center stage Thursday night with Jonathan Lasch in the title role. The audience was delighted. Sung in Italian with projected English translations, the humor was not lost on the audience.
Lasch anchored the opera with his rich baritone voice. Adept at physical comedy, he also delivered a remarkably subtle portrayal of the aging cad.
Doctoral student Oriol Sans conducted the University Symphony Orchestra in an excellent, spirited performance that was enthusiastically cheered by the audience throughout the evening.
Steven Eddy shone as Ford with his polished baritone voice and acting skills, artfully handling the comic aspect of the role. And Hailey Clark lit up the stage as Mistress Alice with her brilliant, highly refined soprano voice and professional stage presence.
Amanda Cantu often commanded the stage as she presented her comic scenes with aplomb as Dame Quickly. And Ariel Halt and Daniel Berryman provided some of the most naturally light-hearted moments of the evening as Nannetta and Fenton. Halt sang with a wonderful sense of ease and freedom, sailing along with Berryman's lovely tenor voice in their scenes together.
Benjamin Sieverding's airy bass voice contrasted greatly with Brian Giebler's light tenor in their rough-and-tumble roles of Pistola and Bardolfo. And Maureen Ferguson was clear voiced and quietly engaging as Mistress Meg Page. Unfortunately, tenor Justin Berkowitz's exacting, animated performance as Dr. Caius was overpowered by the orchestra in the opening scene.
Director Joshua Major's production moved at a lively pace. However, a large backdrop representing a handwritten scroll looked a bit awkward, especially as it spilled over the edges of the stage like a misplaced tarp. A low platform atop the stage creaked loudly when the full cast was onstage, and signs announcing the location of the scenes, such as "Inside the Garter Inn" and "A Room Inside Ford's House," seemed unnecessary. Jeff Bauer's costumes were appropriate, however, with a soft blush of color and intricate detail.
The University of Michigan University Opera Theatre's production of "Falstaff" continues Friday and Saturday at 8 p.m. and Sunday at 2 p.m. at the Power Center for the Performing Arts, located at 121 N. Fletcher St. in Ann Arbor. Thursday's cast will perform the opera again on Saturday, and another cast - with guest artist Scott Bearden in the title role - will be onstage on Friday and Sunday. Audience members are invited to talk with Director Joshua Major and members of the cast after the performance on Friday. Assistant conductor Elliott Moore will lead the orchestra on Sunday. Tickets for the opera are $26 and $20 for reserved seating, and $10 for student seating. They can be purchased at the League Ticket Office, located at 911 N. University Ave., Ann Arbor, on Friday at 9 a.m. - 5 p.m.; and Saturday at 10 a.m. - 1 p.m.; or by telephone at (734) 764-2538; or online at tickets.music.umich.edu. The Power Center is wheelchair accessible, and has an infrared listening system for hearing enhancement.