Posted on
Fri, Oct 28, 2011 : 2:23 a.m.
Gate Theatre's 'Watt' and 'Endgame' pack a terrific (and funny) punch
By Jenn McKee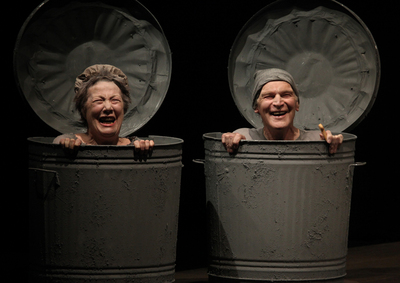 In
Samuel Beckett
's "Endgame" - now being staged (with an adaptation of Beckett's "Watt") by Dublin's Gate Theatre, courtesy of the
University Musical Society
- Clov, an embittered servant who can't sit, repeatedly tells his master, Hamm, a blind man who can't stand, that he wishes to leave.
"What's there to keep me here?" asks Clov.
"The dialogue," says Hamm.
Indeed, "Endgame"'s spellbinding dialogue is precisely what keeps audiences around, too. The witty, circular, and sometimes vaudeville-esque interplay between the play's four characters - Clov (Barry McGovern) and Hamm (Owen Roe), and Hamm's parents, Nell (Rosaleen Linehan) and Nagg (Des Keogh), who live in trash cans - provides the play with its mischievous spark.
This is absolutely crucial, since there's little conventional suspense to be drawn from powerless, physically limited characters trapped in a kind of sooty, claustrophobic limbo. (Hamm tells Clov, "Outside of here, it's death," but clearly, inside, it's death, too.) In Beckett's plays, what happens next is the same as what's happened before. And that's the point.
Masterfully directed by Alan Stanford, the Gate Theatre's "Endgame" really does make you feel like you're seeing Beckett's work as the groundbreaking playwright intended. With laugh-out-loud exchanges - including a hilarious exchange focusing on Hamm's dog - Stanford's production revels in Beckett's dry humor without ever pushing too hard.
Taking cues from the play's many, many self-conscious references to theater - Hamm defines one line as an aside, mentions he's building up to his last soliloquy, says "That's what we call making an exit," voices stage directions to himself, etc. - Roe makes Hamm an attention-seeking showman. When he makes speeches, or tells stories, there's the sense that he's imagining an audience that hangs on his every word.
McGovern, playing the only character that can move, scores with both physical humor and great comic timing and delivery. Finally, Linehan and Keogh are marvelous as Nell and Nagg - amusingly petulant in one moment, heartbreakingly sincere the next.
Eileen Diss uses one-point perspective for the dingy room, with just Hamm's worn chair and Nell and Nagg's trashcans placed downstage. Joan O'Clery's costumes convey a mustiness that would suggest that no other clothes exist in this world, so the characters have worn the same items for years. And James McConnell's lighting design underlines the washed out look of the production.
But "Endgame" is the latter part of a double bill that begins with McGovern's adaptation of Beckett's novel, "Watt," which tells the story of a disillusioned man who visits a recluse, only to then become his manservant.
McGovern performs "Watt" alone, thereby giving the audience a chance to focus more tightly on Beckett's lush language and pointed repetitions - a pleasure in itself. Plus, in contrast to "Endgame," "Watt" offers a more conventional, linear narrative (in that there's a beginning, a middle, and an end) in Beckett's fanciful, inimitable voice.
Tom Creed directs the one man show with flair and polish. With nothing more than a chair and a coat rack on the stage, McGovern not only assumes the voice of a narrator, but also Watt and the recluse Knot (yes, Beckett has terrific fun playing with these names).
Costume designer O'Clery dresses McGovern in tails; and in a clever moment of staging, when McGovern drapes his dress coat over a chair, steps away, and assumes a different voice while pointing toward the chair with a cane, we have a visual suggestion of Knot addressing Watt. James McConnell's lighting design acts as a bridge for several character and scene transitions, and the final, slow fade out helps give McGovern's final moment profound emotional heft.
McGovern has something to do with this too, of course. His thoughtful distillation of the novel's basic plot, paired with his terrific performance, make "Watt" an engrossing, if off-kilter, ghost story.
Yes, the Gate's double-bill program runs three hours, including a half hour intermission; but for Beckett fans, a better opportunity isn't likely to present itself anytime soon.
Jenn McKee is the entertainment digital journalist for AnnArbor.com. Reach her at jennmckee@annarbor.com or 734-623-2546, and follow her on Twitter @jennmckee.