Posted on
Sat, Nov 17, 2012 : 6:43 a.m.
Gilberto Gil brings exuberant sounds of Brazil to Hill Auditorium
By Will Stewart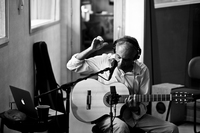 What did you think of the concert? Leave a comment and / or vote in the poll at the end of this post:
Gilberto Gil delivered a lesson in Brazilian music at Hill Auditorium on Friday, schooling an eager crowd on the intricacies and vagaries of the music that he's made a career out of both honoring and enhancing.
So it should come as no surprise that Gil's two-hour performance, with a percussive and insistent six-piece band, paid homage to one of Gil's own heroes, the singer and accordionist Luiz Gonzaga, the father of Brazil's forro style of music.
"One man had the spirit and the charisma and an accordion and he said it all," said Gil by way of honoring Gonzaga. "This is his music that we're honoring tonight."
With that, Gil and his band launched into a series of Gonzaga's forro numbers, highlighted by syncopated triangle, zabumba drum (similar to a marching band's tenor drum and played on one head with a soft mallet and on the other with a timbale stick) and dancing accordion melodies.
Although sung in Portuguese, the songs almost made us taste the dusty, northeastern Brazilian air as the band traded solos and pushed one another through the joyous tunes.
Fit and trim at 70 and dressed all in white, Gil cut an exuberant figure, dancing and whooping throughout the night and singing in that remarkable voice that's, by turns, light and airy, then deep and resonant. He also remains a dap hand on guitar, applying a light, rhythmic touch on electric guitar.
A pioneer of Brazil's Tropicalia movement during the 1960s and 70s, which blended traditional Brazilian music with rock, folk and psychedelia, Gil remains a cultural chameleon. Even on the musi-traditional numbers, little flourishes of rock 'n' roll found their way into the material, including an occasional guitar debt to George Harrison, particularly in some slide figures. Meanwhile, fiddler Nicholas Krassic, a veteran of Gil's bands for a decade, provided some riveting and inventive solos throughout the gig.
And yet for most of Friday's performance , it occupied an uneasy middle ground between studious recital and exuberant concert. Audience members were polite, but the occasional clap-along and intermittent foot tapping were about as much as they seemed willing to give.
Ironically, it was Gil's ill-fitting excursion into reggae, via largely pointless, rote readings of Bob Marley's "Three Little Birds" and "No Woman, No Cry," that final broke the ice. By the end of the latter song, the crowd was singing along.
Earlier in the evening, Gil resisted calls for some of his better-known songs, demurring politely, " "Tonight is about home."
But by the time he applied the forro treatment to some of his own tunes, like "Andar Com Fé" and "Madalena," the crowd began to stir. Soon the aisles on both sides of the stage filled with dancers, who helped bring the show home in every respect.