Posted on
Sat, Mar 2, 2013 : 2:13 a.m.
Performance Network's 'Good People' is better than good
By Jenn McKee
What did you think of the play? Leave a comment and / or vote in the poll at the end of this post: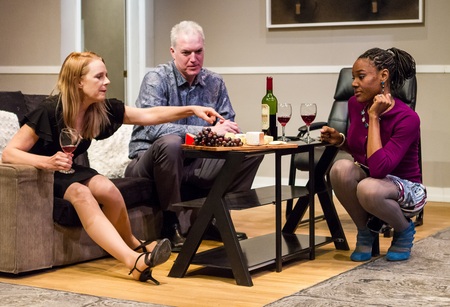 photo by Sean Carter | courtesy of Performance Network
In a key scene in
David Lindsay-Abaire
's "Good People," now being staged at
Performance Network
, out-of-a-job single mom Margie (
Suzi Regan
) tells her old high school boyfriend Mikey (
Alex Leydenfrost
), now a doctor, that because he makes charitable donations, he qualifies as "good people."
But as this hilarious, smart, hard-edged drama demonstrates, defining such a thing is far more complicated than that.
At the play's start, Margie loses her cashier's job at a South Boston dollar store, and after talking with her waitress friend Jean (MaryJo Cuppone) and landlady/babysitter Dottie (Ruth Crawford) about her predicament, she decides to reach out to Mikey for a job, even though she hasn't seen him in years. She ends up spending an evening in his tony, suburban home, talking with him and his lit professor wife, Kate (Qamara "Peaches" Black), and the conversation unearths some painful secrets.
Patrons should be warned that these Southie characters are foul-mouthed at times, not to mention politically incorrect. But playwright Lindsay-Abaire grew up in this penurious world, and its depiction feels wholly genuine. Plus, director David Wolber and his actors make it seem as though the characters don't say these things with a sense of malice—not usually, anyway—but rather, they say them because it's the only lexicon they have.
Regan is both hysterical and heart-breaking in the lead role, establishing in the first scene—when Margie keeps talking in order to avoid the axe that she knows is about to fall—Margie's dignity in the face of desperate circumstances. Margie is wry, sometimes pushy, and passive aggressive, but we root for her not only because we understand that these qualities are necessary to her survival, but because Regan makes Margie, despite (or perhaps because of) her hard edges, a woman we can relate to and sympathize with.
The ensemble, in general, is also terrific. Cuppone utterly steals the show's second scene, earning tons of laughs (while sporting a mile-high poof); and Leydenfrost and Black, along with Regan, masterfully handle the slow build of the second act's pivotal scene.
Another star of the show, though, is Daniel C. Walker's ingenious, innovative set, which initially appears like a painted, colorful illustration of the Boston skyline on four walls, slanted into an accordion. Because a number of very different locales are called for by the script - an alley, Mikey's office, Margie's kitchen, the bingo hall, Mikey's home - Walker worked out a way for two different sets to rotate toward the audience on the ends, and for the two central panels to roll back to reveal a set in the middle as well. The design (thoughtfully lit by Walker also) places us vividly within the world of the play; and what a difference that makes, since "Good People" is so much about place, and where these characters come from, and how that shapes who they become.
Costume designer Christa Koerner does excellent work, particularly with the play's women. Jean's manipulated, tight Red Sox shirt, and her penchant for shirts with holes atop the sleeves, speak volumes about her character; and Kate's super-chic ensemble visually underscores the class contrast between her and Margie (who, when she took off her coat to reveal a cheap-looking black and silver dress, actually elicited a groan I can only describe as "fashion pain" behind me on opening night). Sound designer Carla Milarch, meanwhile, provided some key atmospheric touches in the local church's bingo space, the alley scene, Margie's home and Mikey's home. Finally, Stephanie Din's wonderful props—from the mismatched coffee cups in Margie's kitchen to the bingo accoutrements—fill in the details necessary to fully transport us to Southie.
With a running time of two hours, "Good People" will make you laugh out loud often while also challenging you to consider precisely how much of a role luck and choice play in determining our personal fortunes.
And even though we're still in the first months of 2013, "Good People" has already earned a place in my heart as one of the year's highlights in local theater.
"Good People" continues through March 31. For tickets, see the Performance Network website.
Jenn McKee is the entertainment digital journalist for AnnArbor.com. Reach her at jennmckee@annarbor.com or 734-623-2546, and follow her on Twitter @jennmckee.