Posted on
Sat, Jul 6, 2013 : 8:33 a.m.
Les Ballets Trockadero de Monte Carlo delight audience with comic (but highly skilled) ballet
By Susan Isaacs Nisbett
What did you think of the performance? Leave a comment at the end of this post:
Daniel J. Brenner | AnnArbor.com
Ballet is Woman. So said 20th century master choreographer George Balanchine, and who are we to argue?
Certainly, Les Ballets Trockadero de Monte Carlo, the all-male comedy ballet company that played Power Center Friday evening under Ann Arbor Summer Festival auspices, has no quarrel with that definition. In fact, it glories in it, with a roster of buff and brilliant ballerinos—all with hilarious Russianized stage names; some with a hint of five-o'clock shadow peeking from the bodices of their spangled tutus—who have got that assoluta thing down pat. Yeah, they have their cavaliers, too, but girls like Marina Plezegetovstageskaya (Roberto Forleo) know it's ladies first, and they know how to put a porteur in his place, even if he is a prince—with a small break from ballet's decorous manners for some fisticuffs.
It's been about 25 years since the Trocks, as they are known, have been in Ann Arbor, and the program they presented Friday included old favorites—for example, Act II of "Swan Lake" and "Go for Barocco," Peter Anastos' astute send-up of Balanchine's neo-classical "Concerto Barocco." These hold up more than well. In fact, it was only the broadest of the flock of dances, the "Dying Swan"—a heavily moulting version of Pavlova's classic solo to Saint-Saens—that seemed less than immortal. Still, even there, Lariska Dumbchenko (Raffaele Morra) was smartly stylish, gliding in on pointe with little, liquid bourrees and properly rippling arms.
And that's one of the things that makes the Trocks so much fun these days: they dance so well. It's not just the wattage, which is high: you enjoy them because they dance with such elan. But these guys have a lot of technique at their disposal, and, for the most part, they see no need to dumb it down for comedy. They can get the laughs with timing and gags and a few pratfalls and show off their whipping fouette turns in their Costco-size pointe shoes the rest of the time. Seeing them do what ballerinas do so well is a large part of the pleasure.
And so it was that in "Swan Lake," for example, that Plezegetovstageskaya (Forleo), as the swan queen Odette, danced a quite lovely, more than respectable, pretty much straight-from-Ivanov solo to end the act. Of course, the Trocks need to break the spell, and they do it with up-to-the-minute smart-phone panache, as the prince's sidekick, Benno (Pepe Dufka) snaps a pic of his master (Marat Legupski, aka Giovanni Ravelo), who's been vanquished by the evil magician Von Rothbart (Yuri Smirnov).
You could also write many kinds words about Yakatarina Verbosovich (Chase Johnsey) and Vyacheslav Legupski (Paolo Cervellera) in the "Don Quixote" pas de deux. Here was a Kitri who could wield a mean fan, wangle both hauteur and sultriness, and put across Kitri's prancing steps on pointe with charming lightness.
And if you weren't yet sold on the suppleness of these dancers' backbends —essence of the ballerina—or their way with the quick beaten steps ballet dancers call petit allegro, their dazzling "Paquita," clinched the deal. Alla Snizova (Carlos Hopuy) and Legupski (Ravelo) were the stylish leads in this production staged by Elena Kunikova (her real name!); a great cast, strong on ensemble dancing and wearing eye-popping neon red and pink tutus, triumphed in these mean-and-lean variations.
For ballet insiders—those who have been tugged along in the dance of the four cygnets in "Swan Lake" by feathered friends who have lost the ups-and-downs of the steps or the correct tilt of the head (it was their fault, really it was!); those who have gotten tangled in the web of arms in the complex partnering of "Concerto Barocco"); those who could never make Kitri's fan open—or close—at quite the right time in "Don Q"—the Trocks' comedy holds special joy. You don't have to have danced these ballets, though, to love what the Trocks wreak, or even to have seen the ballets in question many times. The comedy reads for everyone; the audience gets the extra jut of the hips in "Barocco," the break-out frugging, the elaborate play of hands.
And the dancing, as well as the comedy, seems to sharpen the eye and whet the appetite for really seeing these ballets done seriously. Except, perhaps, for Riverdance. I'll stick with the Trocks' deadpan encore. Like everything in life, it's so much better with tutus and tiaras.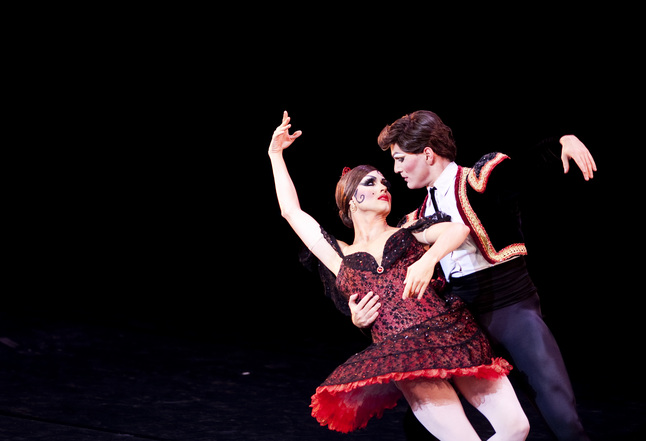 Daniel J. Brenner | AnnArbor.com