Posted on
Mon, Jan 28, 2013 : 9:01 a.m.
Mariachi Vargas de Tecalitlan thrills Hill Auditorium crowd
By Will Stewart
What did you think of the concert? Vote in the poll and / or leave a comment at the end of this post: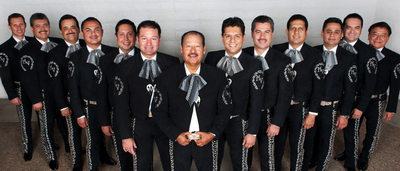 Mariachi Vargas de Tecalitlan
wasn't more than five bars into its performance at Hill Auditorium on Sunday when it received the first of countless ovations from an adoring audience.
Granted, it was a pretty powerful opening, with the 12-member band unleashing a brassy onslaught of sound that was almost startling in the way it filled up the auditorium.
And that's where the volume and the energy stayed throughout an exuberant, University Musical Society performance.
In fact, it didn't matter a bit that we didn't understand a single word of either the performance or the between-song banter. We were captivated from the first notes to the very last, as the band blasted through more songs than we could count, frequently blending one into another in a kind of ongoing medley of traditional Mexican songs.
"Arriba Mexico," shouted Jose "Pepe" Martinez to the roaring approval of the large Mexican contingent, many of whom sang along throughout the concert as the band traversed the width and breadth of traditional mariachi tunes.
Mariachi Vargas de Tecalitlan has existed for more than 150 years, and Martinez has served as the musical director for nearly 50. So the members could probably sail through a performance in their sleep.
But there was an immediacy and an urgency that shone through during Sunday's show. Despite being extremely polished and despite performing flawlessly both as a unit and individually, there remained a kind of in-the-moment vibe that was as charming as it was irresistible.
Resplendent in matching grey suits with silver-piped trousers, embroidered waistcoats and massive sombreros, members might break into a spontaneous dance or emit a high-pitched shriek as the wpirit moved them. And when one member went into the audience and sang to individual audience members, the moment was so pure as to almost bring tears to the eyes.
Featuring six violinists, two trumpet players, harp, guitarron, vilhuera and guitar, the band at times almost sounded like a full orchestra, building songs into tremendous affairs, before immediately switching gears and launching into a new tune.
And the singing. Bell clear and full with exaggerated vibrato, it contained enough pathos and melodrama to warrant its own Univision soap opera. Everyone in the band sang, so the results could be huge, with everyone singing in unison, or quiet and somber, with a few members singing the part of a sort of Greek chorus.
You didn't need to speak Spanish to pick up on the themes: unrequited love, tales of heroism and of traditional Mexican culture.
It was a spirited, virtuosic and, ultimately, joyful reminder that art—and particularly music—has the ability to transcend any cultural or language barriers.