Posted on
Sat, Jan 26, 2013 : 8:22 a.m.
Martha Graham Dance Co. offers powerful performance at the Power Center
By Susan Isaacs Nisbett
What did you think of the concert? Leave a comment and / or vote in the poll at the end of this post: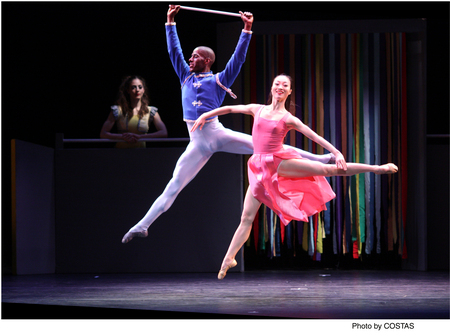 One of the pleasures and wonders of watching dance is the seeing the seemingly impossible things bodies can be made to do. Some choreographers work to extend movement possibilities for their own sake. But for the modern dance pioneer Martha Graham, turning the body inside out was most often a way to expose the psyche.
So it's fitting that her eponymous company, the Martha Graham Dance Company, still performing more than 20 years after Graham's death and visiting Ann Arbor again this weekend under University Musical Society auspices, should devote one evening to dances of the "Inner Landscape."
Americana takes the Power Center stage tonight, with Graham's "Appalachian Spring" and a meditation on it by Robert Wilson. But Friday evening, in dances by Graham and others, the focus was on the psychological made physical, on inner turmoil made plastic.
Janet Eilber, the company's artistic director and a former principal with the company, played host, graciously setting the stage for each dance. Her goal was to provide context for a choreographer who by now, for many, is just a name. But the program itself—with works that influenced Graham and works influenced by Graham—also made a fine and interesting case for a web of connections that extends to this day.
One of those connections is personal for Ann Arbor: Peter Sparling, a professor of dance at the University of Michigan, was a principal with the Graham company for many years; Eilber called on him to create a video montage to start the show. And in "Beautiful Captives: Martha Graham and the Cinematic Id," he overlaid stunning images from Graham's psychological dances of the 1930s and '40s with cinematic images that mirror the dances' outer movements and inner obsessions. The images and sounds pile up in a dreamlike, free-associated manner that sets just the mood for Graham's psyche-gazing dances.
The evening's major Graham work was the 1947 "Night Journey," the Oepidus story told with Jocasta—his wife and mother—as the main protagonist. With its Greek chorus desperate to forestall doom, its visceral evocation of desire and horror—Oedipus (Tadej Brdnik) caressing Jocasta with an arrogant flexed foot; Oedipus stabbing his eyes with her brooch—it's a dance that is potent still and yet very much of its time, in its stylized tableaux, its symbolism and its amazing Noguchi set and props.
The chorus of women (and their leader, Mariya Dashkina Maddux) were fine, but it was in the evening's Jocasta, Miki Orihara, that you could see—no, feel—the guts of the Graham style. Everything emanated from the center of the body; in her staggered walk at the dance's beginning, when she is contemplating her own death and looking back on the events that have led her there, each pause sends a jolt from her core through her whole body. It is deep, real, from the inside out.
"Every Soul is a Circus," from 1939, holds up less well. It feels dated rather than of its time, and it's diffuse—not enough peanuts or popcorn or pathos—in its explorations of what a woman really wants. But the dancing itself was charming, with the willowy, long-limbed Katherine Crockett in the Graham role as the languorous Empress of the Arena; the excellent Ben Schultz as Ring Master; and Lloyd Knight as the fit and fleet Acrobat.
What worked most beautifully in the evening, though, was the through-line that Eilber constructed to and from one of Graham's most iconic dances, the 1930 solo "Lamentation."
In itself, it was extraordinary to see German Expressionist Mary Wigman's 1926 solo "Witch Dance." Maurizio Nardi was powerful, as percussive as the score itself as he moved, cloaked, wild-haired, white-masked, from seated stillness to claim more and more of the stage.
That was gift enough, but seeing footage of Graham in "Lamentation"—a prelude to "Lamentation Variations,"—allowed a glimpse of the sort of influence Wigman might have had on Graham with "Witch Dance." And how has Graham's now-iconic work influenced other choreographers? The results were on view in "Lamentation Variations," a work conceived for a 2007 commemoration of 9/11.
The three variations that followed the footage of Graham on Friday (there are more!), were by contemporary choreographers Bulareyaung Pagarlava, Richard Move and Larry Keigwin. They were as moving as the Graham original, which is saying a lot, for that original is one of the most concentrated, sculptural evocations of grief dance has known.
Pagarlava's variation, to Mahler, was set for three men (Brdnik, Nardi and Schultz) and one woman (Maddux), and it was all about flow and support, falls and catches, bodies sighing and weeping. Move made a solo for Crockett, a slow progression across the stage from left to right in a straight line but for an ever more arc-ing, reaching body. And Keigwin worked with the full company, to Chopin, echoing gestures from Lamentation—the touching of the temples, the rocking and keening, the thrumming of the hands—in an ensemble that ends with all falling to the ground save for one couple. And then, the woman in the couple crumbles, leaving the man holding onto the negative space of what had been her shape in his arms.
These were devastating, and devastatingly beautiful, inner landscapes. They were also a sign of what a company with a magnificent legacy can do to keep it shining for future generations.
The Martha Graham Dance Co. performs again Saturday night. For tickets and information, see ums.org.