Posted on
Fri, Dec 16, 2011 : 9:17 a.m.
'Melancholia' is a bleak, wondrous vision of the end of the world
By Ryan Levin
For a filmmaker like Danish writer/director Lars von Trier—who, by his own account, suffers from chronic and debilitating bouts of depression (and an equally chronic bleak worldview)—the vision of the end of the world in his new film 'Melancholia' is something of a misanthropic fantasy.
Like his character Justine (played in the movie by Kirsten Dunst), von Trier reports to be stricken with such fits of melancholy that he finds himself unable to work or function in social settings. He'll be bed-ridden for days, lethargic for weeks and upon recovery returns to filmmaking to exorcise his demons onto the screen.

Von Trier's vision of global calamity is haunting, beautiful and enduring (the last scene lingers with me still). As a work of art it almost seems to be its own best counter-argument against the casual annihilation of the human race by an uncaring universe. It compels you to grab von Trier by the shoulders, shake him and point to the screen. If not for humanity then how would there be works of art like this? If not for the world how could we relish the natural world that looks so arresting through von Trier's lens?
Then, like any good tragedy, "Melancholia" will make you wonder if, on the cosmic scale, von Trier might have a point.
There is humor and love in "Melancholia"—if only to be smothered by human wretchedness, bitterness and a rogue planet on a potential collision course with earth. There are moments of magic and startling beauty, though they seem to come only at the precipice of the world's demise.
According to press material for "Melancholia," von Trier's therapist once told him that depressives tend to behave more calmly in crisis situations, because they have already been assuming that the worst was going to happen—and often they feel they have very little to lose. This idea was the seed for his new movie.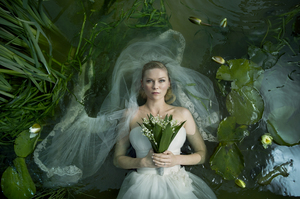 Von Trier's version of the apocalypse, unlike the many Hollywood incarnations, focuses resolutely on the personal and the mundane. If
Michael Bay is hiring Bruce Willis and his team of misfit oil riggers
somewhere out on the edges of the story, we never hear about it. This focus on the everyday can sometimes seem to drag on a bit too long (the movie does run over two hours), even punctuated by occasional reminders of Melancholia approaching in the sky accompanied by booming strains of Wagner's overture to
"Tristan and Isolde."
The movie was a critical success at Cannes, where Dunst won Best Actress, but it was not quite lauded loudly enough to overshadow its director's "Hitler" blunder during a press conference. Beside a visibly horrified Kirsten Dunst, von Trier's rambling misstep made him "persona non grata" at the festival and added more fuel to the bonfires of his disparagers. Von Trier has gone into a self-imposed media exile since then, but his film has already garnered numerous accolades outside of Cannes, and, however socially clumsy the Danish director may be, he continues to be a source of singular and visionary films that challenge the viewer.
"Melancholia" opens today at the Michigan Theater.
Ryan Levin is a University of Michigan Screen Arts and Cultures graduate and a film and comedy blogger. He currently moonlights as a waiter and bartender at the Ann Arbor Comedy Showcase.