Posted on
Fri, Feb 18, 2011 : 11:21 p.m.
Merce Cunningham Dance Company farewell performance at Power Center full of beauty, surprises
By Susan Isaacs Nisbett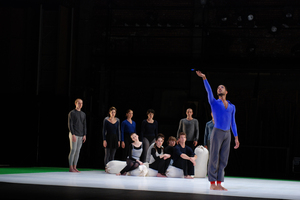 If you're not attending Saturday's performance by the Merce Cunningham Dance Company at Power Center or planning to follow the troupe from town to town on the Legacy Tour that leads it to a December 2011 disbanding, Friday evening was a last chance to dance with Merce.
That idea lent special gravity to a performance, under University Musical Society auspices, that was anything but earthbound. "Squaregame" and "Split Sides," two Cunningham works separated by nearly 30 years, both had strong elements of play. And, as always, the immaculate, articulate dancers of the Cunningham company were pulled up and elegant, balancing high and sure on demi-pointe as if it were terra firma, as it clearly is for them. Finally, Cunningham acolytes who love the movement but not so much the music, got a parting gift in the performance: whiffs of melody (really!) and no time when you wished you'd remembered the earplugs you forgot on the counter as you left home.
The works — both on the bill again tonight — came in chronological order, with the revival of the 1976 "Squaregame" leading the performance. The décor and costumes, by Mark Lancaster, are spare. Nothing hides the back wall or sides of the stage; a white floor is bordered with green "grass" and dotted with stuffed duffel bags; and the dancers wear practice clothes in grays, blues and black. But spare is different from severe, and severe this dance is not. Nor is the music, by Takehisa Kosugi, the company's current music director. David Behrman and Jesse Stiles realized the score, with its rippling electronic arpeggios, glug-glugs and gurglings, sounds that somehow conjured water swirling down a bathtub drain along with someone singing along to the descent.
If the music made me giggle, so did unexpected turns in the movement — a dancer, bent over in a huddle of his colleagues, suddenly shooting a leg skyward; little pas de trois and pas de quatre drawing on social dances and social dance partnering in novel ways and numbers; dancers hauling those sacks around as backrests or riding them like ponies.
To smile at, there were felicities of contrast — the angles of the dancers' stag leaps and crooked arms and legs versus moments where all was sensuously rolled shoulders or wobbly, woozy ankles.
Though "Split Sides," from 2003, substitutes a wide-based, uplifted serenity for the play that dominates "Squaregame," play is at work in the prologue: the rolling of a die to determine the order and combination of the dance's elements. On stage, with video projection for drama, five local celebrities rolled for order of the two parts of the dance; which of James Hall's two sets of costumes would come first; whether the music by Radiohead or Sigur Rós would start and whether Robert Heishman's heathery gray set would precede Catherine Yass's vertical washes of blues and pinks; and which lighting cues (by James F. Ingalls) would take precedence. It was fun and very Merce-ean.
And, of course, it is fun to speculate how different the dance would look in other of the 32 variations I'm given to understand exist. For example, would the movement of the first half (Part B), take on the mechanical carousel cast it had without the whirligig music (Sigur Rós) that accompanied it? How would the opening — the dancers sailing across the stage, arms outstretched like wings — look without the silhouette lighting that turned them to flitting, dark shapes?
Last night, odd numbers — three especially — kept on coming up. But tonight — who knows? That, and one more chance to experience Cunningham's extraordinary dances and dancers, is reason to show up.
Susan Isaacs Nisbett is a free-lance writer who covers classical music and dance for AnnArbor.com.
Merce Cunningham Dance Company perform 8 p.m. Saturday night at Power Center. Tickets, $20-$54, available via UMS Ticket Office in the Michigan League, 734.764.2538, and online at ums.org.