Posted on
Mon, May 6, 2013 : 4:40 p.m.
Script takes the wrong path up 'The Mountaintop' at Performance Network
By Jenn McKee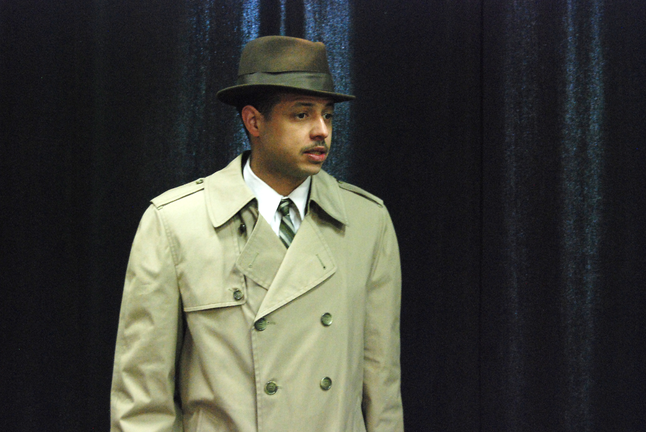 Photo by Jen Pan
Bringing an icon like
Dr. Martin Luther King, Jr.
down to earth is a complicated, challenging process; and
Katori Hall
's play "The Mountaintop," now on stage at
Performance Network
, labors to do just that.
Set in Memphis' Lorraine Motel, the night before King's assassination, "The Mountaintop" begins while a thunderstorm rages. King (Brian Marable) - uneasy and anxious, thanks to death threats - craves coffee and cigarettes while struggling to write a speech. When sassy, foul-mouthed motel maid Camae (Carollette Phillips) arrives at King's door with coffee, as well as a private stash of cigarettes to share, the two begin an evening-long conversation that takes some surprising turns.
It's tempting, to the point of almost being reflexive, to extend the reverence almost universally held for Dr. King to any and all artistic depictions of the civil rights leader. And there's value in seeing our heroes as "regular" people who simply use their gifts in productive, sometimes world-changing ways. But Hall's script, despite a few lovely moments, left me cold.
This is largely due to a surprise (which I won't reveal here) regarding who Camae really is, a secret revealed nearly halfway through the Network's intermission-less, 100-minute production. I'll confess that the revelation set my eyes to rolling and made me wonder why Hall had relied on such a tired narrative device to achieve her ends.
Even so, had the device effectively provided a sense of Dr. King in on-the-ground, human terms, I would have been far more forgiving. And Hall strains (quite self-consciously at times) to do this by having King urinate while trying out pronouncements for a speech; contend with foot odor; engage in a pillow fight and tickling horseplay with Camae; and more. But these moments don't add up to a satisfying portrait of the man known as Dr. King, who still, by play's end, feels distant and largely inscrutable.
This is in no way, however, a reflection of Marable's performance, which wisely steers clear of mimicry. Instead, Marable draws King as a self-possessed (but worried) man that already knows he's caught in a fatal trap; and Marable's final, magical moments on stage underscore precisely why he's a good choice for the role. Phillips, meanwhile, is appealing by way of offering a very different kind of energy - irreverent, blunt, self-aware - on stage, and makes a fine foil for Marable.
Meanwhile, scenic and media designer Justin Lang plays a larger-than-usual role in "The Mountaintop," given that a series of projections lies at the heart of a pivotal scene, and that the images appear on the disassembled (and masterfully realized) set of King's motel room, decked out in Charles Sutherland's era-appropriate props. Costume designer Christianne Myers and lighting designer Craig Kidwell round out the production's fine tech crew.
Yet despite all that director Carla Milarch and her team brings to "The Mountaintop," in the end, it's a solid production of a disappointing play. Yes, the show's strongest passages contain a hint of what the play might have been; and the show earned loads of awards and accolades when it premiered in London.
But the New York premiere of "The Mountaintop" that followed received a much more muted, lukewarm response, and I have to wonder if the disconnect points to a larger paradox: though Hall hopes to bring King down to earth by depicting the fear and anxiety he likely felt in the face of death, Americans have now seen several artistic depictions of Jesus experiencing the same in films like "The Last Temptation of Christ" - and so the very act of making King more human just before his death inevitably brings to mind again the ways that King, in a sense, lived his own version of Christ's story in the 20th century.
Which makes King seem more like a god than a man, and thus brings us frustratingly back to where we were: lionizing a brilliant, brave, courageous man, and flailing hopelessly to get a bead on what it was like to spend an evening in his casual company.
So maybe Hall's mission was ultimately an impossible one; but I would have had more respect for the attempt if the questions too easily answered in her script remained as ambiguous for King as they are for the rest of us.
Jenn McKee is an entertainment reporter for AnnArbor.com. Reach her at jennmckee@annarbor.com or 734-623-2546, and follow her on Twitter @jennmckee.
"The Mountaintop" continues through June 2. For tickets, see www.performancenetwork.org