concert review
Nellie McKay makes beautiful music with bite at the Power Center
Posted on Thu, Jun 28, 2012 : 2:14 a.m.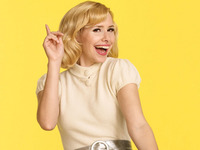 There's something innately sly about the charm of singer/songwriter Nellie McKay, who performed on Wednesday night as part of the Ann Arbor Summer Festival.

For McKay's girl-next-door appearance and lilting voice, her often upbeat-sounding songs (and gorgeous reinterpretations of decades-old classics), and her stammering awkwardness when speaking between songs to the 700 assembled at the Power Center all belie the fact that she regularly wields a fierce, bitingly sarcastic wit in her songs, with a sense of irony that's delivered in such a pretty package that you may do a double or triple take to make sure that you are, indeed, in on the joke.

McKay took the stage Wednesday - following a well-received opening set by Sneakin' Out - wearing a sleeveless, ankle-length print dress of brown, yellow and orange, with glittery silver flats on her feet.

And because McKay is a staunch animal advocate, perhaps it's no surprise that she kicked off her 90-minute set at the piano with three dog songs: "Toto Dies" and "The Dog Song,' from her celebrated 2004 debut, "Get Away from Me," and "Beneath the Underdog," a song from her most recent studio album, "Home Sweet Mobile Home."

From there, McKay glided seamlessly from jazz standards like "The Very Thought of You" and "A Tisket a Tasket" to a disarming medley - played on a ukulele at center stage - of two Lennon/McCartney songs ("A World Without Love" and "I'm so Tired"), Herman's Hermits' "Mrs. Brown, You've Got a Lovely Daughter" and McKay's own "Caribbean Time," during which she led the audience through a long, meandering, call-and-response singalong.

It must be said that part of McKay's magnetism as a performer comes from the same playfulness that's on display in her songs - whether it's delivering what she called the growly "Tom Waits version" of "The Dog Song," or providing backup vocals as well as the melody for "Mrs. Brown," or getting into character for Loretta Lynn's harried-mother classic, "One's on the Way."

The latter (played on ukulele) was a show highlight, since it offered a brief but compelling glimpse of McKay's noted abilities as an actor, while also dovetailing perfectly with the tongue-in-cheek "I Wanna Get Married" and the comic feminist throwdown "Mother of Pearl." But mixed in with these tunes, and thus complicating the picture, was a lush, spare take on Bobby Darin's "Meditation - I Will Wait for You," which injected a hint of romance to balance the scales.

Because McKay performed each song on her own, the Power Center felt less like a large auditorium and more like an intimate Manhattan cabaret. McKay wrapped up her regular set with Billie Holliday's "Body and Soul" and the stirring jazz classic "Crazy Rhythm."

When called back on stage for an encore, McKay voiced concern about the time, but quickly shooed the thought away before announcing, "This is a song about illegal immigration"; with that, she launched into "Don't Fence Me In," followed by a second encore, "Ding Dong."

Juli Pinsak, the Ann Arbor Summer Festival's usher supervisor, loved McKay's show. "I like the campiness of it," she said. "The stories, the feminine side of her, the political innuendos and the sarcasm. But she's a great musician, too. So it's a lot of fun. … I was glad we brought her here. I just wish there'd been more people."