Posted on
Sat, Jun 11, 2011 : 2:26 a.m.
Performance Network's 'Next Fall' packs emotional and intellectual punch
By Jenn McKee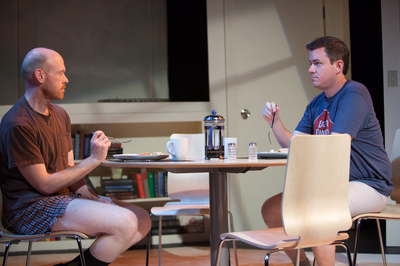 photo by Sean Carter | Courtesy of Performance Network
"Life is short and then you die," one character says in
Geoffrey Naufft
's Tony Award-nominated "Next Fall," which opened Friday night at
Performance Network
. "Then what happens?" another asks.
In context, the question is a cheeky, provocative little poke between a nonbeliever and a believer. But it also, of course, scratches at the surface of a spiritual belief system that heavily influences each person's worldview, personality, and priorities.
Indeed, many of us tend to gravitate toward friends and partners whose beliefs align with our own. But in "Next Fall," Luke (Kevin Young), a twentysomething transplanted Southerner and aspiring actor who's not "out" to his family, and Adam (Andrew Huff), a 40-year-old candle-salesman-turned-teacher who champions science over religion, somehow find enough common ground to build a years-long relationship.
When Luke is seriously injured in an accident, Adam has no choice but to confront Luke's intolerant, fundamentalist father Butch (John Seibert), as well as his troubled and hyper-chatty mother, Arlene (Barbara Coven).
The 2-hour play moves around in space and time, taking the audience from present-day scenes in the hospital, to flashbacks of defining moments in their five-year relationship (their first meeting at a party, the morning after their first night together, moving into the apartment they would share, etc.). Sound cues, designed by Ken Faulk, as well as photos projected onto 3 of set designer Monika Essen's white walls, clearly convey transitions between locales, while lighting designer Janine Woods Thoma guides the audience's gaze and provides each setting with a distinct and appropriate atmosphere.
The first thing that leaves a deep impression in "Next Fall," though, is Coven as a colorful, larger-than-life Southern woman who talks a blue streak. Coven takes pains not to overdo it and thus make Arlene cartoonish; instead, Arlene's frenetic charm is wholly consistent with the demons we later learn have long tormented her.
Courtney Myers and Rob Pantano both do excellent work in supporting roles—Myers as Adam's boss and close friend, and Pantano as Luke's estranged friend who disapproves of Adam and Luke's relationship. Seibert, meanwhile, offers a meticulously calibrated and polished performance as Butch, and he has a moment of searingly raw power near the show's end; yet even so, director Ray Schultz may have benefitted by casting someone less familiar to Network audiences in the role of Luke's coldly rigid Southern father. Seibert has always exuded such a likable, decent-guy quality—in shows like "A Feminine Ending" and "The Baker's Wife," for instance—that I found myself struggling to see the actor as Butch, no matter how thoroughly he'd committed himself to the (admittedly tricky) role.
But the relationship between Luke and Adam is the play's true anchor, and Huff and Young manage to make it feel not only natural, but complicated and lived-in and loving, too. Yes, the script provides sharply funny banter and realistically structured arguments, but it nonetheless takes two skilled actors to really breathe life into the words. Young makes Luke a man who's wholly content with his beliefs and his choices, but never smugly so; and Huff makes Adam a thoughtful, wry cynic who can't seem to stop himself from stirring the pot where spirituality is concerned.
With the exception of a few logistically awkward scene transitions, Schultz directs the play with an outstanding feel for the play's alternating shades of humor, intellectual questioning, and emotional struggles. For Naufft's script is a masterwork in deceptive simplicity and economy. It takes on weighty, universally relevant issues without ever becoming self-conscious, preachy, or pedantic about them. Rather, the themes arise organically from character, and the messy relationships they all share with one another.
Plus, it never hurts to have costume and props designer Monika Essen adding delightful small detail touches—like a stuffed "gay Teletubbie," Tinky Winky, in Adam and Luke's apartment, and Luke sporting a Dairy Queen T-shirt as pajamas.
But perhaps the biggest compliment I can give "Next Fall" is to say that it made me revisit, for the first time in years, painful conversations I'd once had with a college boyfriend about his spiritual ideology, which was strikingly different from my own. The schism wasn't what pulled us apart, ultimately; and like Luke and Adam, we loved each other despite these differences. Yet our protracted discussion did force each of us to reassess our beliefs, their origins, their rationale, and maybe even their shortcomings. And that didn't necessarily seem like a bad thing.
So while "Next Fall" on its own won't necessarily do all that, it's nonetheless a funny, intellectually and emotionally absorbing piece of theater that asks the big questions that haunt us all—and manages to do so in a way so quietly moving that the play's coda will likely land in your chest like a stealth bomb.
Jenn McKee is the entertainment digital journalist for AnnArbor.com. Reach her at jennmckee@annarbor.com or 734-623-2546, and follow her on Twitter @jennmckee.