Posted on
Sun, Jul 10, 2011 : 2:57 a.m.
Pink Martini, with substitute vocalist Lucy Woodward, intoxicates Ann Arbor Summer Festival crowd
By Roger LeLievre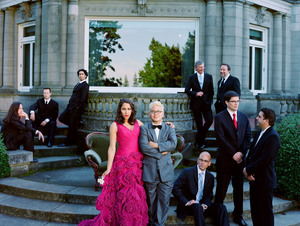 You have to have a little sympathy for
Pink Martini,
the West Coast band that's wowed Ann Arbor Summer Festival crowds in two past appearances with its infectious blend of Brazilian samba, '30s Cuban dance, Parisian cafe sensibility and world-music flair.
First, founding vocalist China Forbes took ill, and required surgery on her vocal cords. Then her replacement, singer Storm Large, wound up on the sick list as well, leaving jazz vocalist Lucy Woodward to fill in at the band's Ann Arbor Summer Festival date Saturday night.
So how'd the replacement for the replacement do? She navigated the group's catalog—even the songs in languages other than English—with aplomb, almost as if she'd been performing these tunes for years.
After bandleader Thomas Lauderdale explained that Woodward had but five days to learn the songs, she launched into a perfect, sultry version of "Amado Mio" that banished any doubts I may have had about her abilities. She also offered a smokin' version of the Doris Day standard "Perhaps, Perhaps, Perhaps," and sounded lovely on "Song of the Black Lizard," sung in Japanese. Woodward even managed a number in Croatian and put her own spin on the classic "Brazil."
One should always expect the unexpected at a Pink Martini concert, and this one was true to form. Not only was the audience treated to an exceptional violin-piano-cello version of a Mozart concerto, there was a piece loosely based on the opening themes Schubert's Fantasy in F-minor for Piano and 4 Hands that segued into the jumping Afro-Cuban number "And Then You're Gone," told from the point of view of a woman whose man has vanished ("I Will Survive" meets "Hit the Road Jack," explained Lauderdale). The song was followed up by a male response, offered by percussionist/vocalist Timothy Nishimoto, titled "But Now I'm Back."
The high point of the show's second half was a version of the Turkish folk standard "Uskudara," complete with a chorus of audience members of Turkish heritage brought on stage for the number. They sounded great and really got into their time in the spotlight, so much so that Woodward kept them there to help out with the call-and-response for the next tune, "He Got Away," from her own catalog.
The band also delved offered the lovely Chinese New Year song "Congratulations" and "Donde Estas, Yolanda," both sung by Nishimoto. The show ended with another Cuban classic, "Malaguena."
The only tiny note of disappointment, at least for me, was that neither of Pink Martini's most familiar songs—"Hey Eugene" and "Sympathique"—were performed. It could be that Woodward hasn't had time to get them down pat yet; however, they would have been the frosting on the cake to an otherwise perfect night.
After the show, many members of the audience could be seen making their way over to Top of the Park to catch the set by local band Ella Riot (formerly My Dear Disco), popular with the younger crowd and finally catching a break with the weather after two years' worth of rainouts. It was great to see such a big crowd at both events, and just a wonderful way to bring the festival's Mainstage series to a close.