Posted on
Thu, Feb 21, 2013 : 1:54 a.m.
Propeller's 'Twelfth Night' is likely to both haunt and amuse you
By Jenn McKee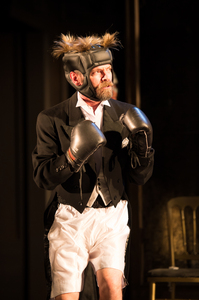 photo by Manuel Harlan
Malvolio in tear-away pants? Sir Andrew Aguecheek in boxing gear while "The Eye of the Tiger"'s iconic chords briefly prime the audience for a fight?
Such cheeky contemporary touches, paired with Shakespeare's original text, are acclaimed, all-male British theater company Propeller's trademark. Even so, Propeller's "Twelfth Night"—now being presented courtesy of UMS—indicates, by way of its opening tableau and its washed-out palette (lit by Ben Ormerod), that no matter how many laugh-out-loud moments might ensue, sadness, loneliness and human cruelty lie beneath the play's story.
A dust cover on some furniture, a slumped chandelier, and movable wardrobe-like set pieces are placed in front of a photographic backdrop of dark storm clouds at the play's start. This is fitting, in one sense, since a shipwreck that separates twin siblings Viola (Joseph Chance) and Sebastian (Dan Wheeler) sets the story in motion; but the clouds don't go away after the storm has passed.
Both siblings find themselves in Illyria. Viola decides to dress as a man named Cesario and serve the local Duke, Orsino (Christopher Heyward), while Sebastian is left to find his way with his loyal friend, the captain, Antonio (Finn Hanlon). Viola soon falls for Orsino, but must, in Orsino's stead, make romantic entreaties to in-mourning Olivia (Ben Allen), who takes a shine to Cesario.
Meanwhile, Olivia's self-righteous steward Malvolio (Chris Myles) annoys Olivia's heavy-drinking uncle, Sir Toby Belch (Vince Leigh), and serving woman, Maria (Gary Shelford), to such a degree that the pair decide to convince Malvolio that Olivia's in love with him; and Toby champions his friend, the squirrely Sir Andrew Aguecheek (John Dougall), as a potential suitor for Olivia.
Confused identities abound in "Twelfth Night," and director Edward Hall (and designer Michael Pavelka) seizes upon this visually by having the ensemble wear plain, identical masks throughout the show. Cast members also peer out from doors and windows flanking the action, underscoring the haunting sense that the characters are always being watched.
And as with all Propeller productions, music plays a starring role. The ensemble sometimes sings, and sometimes forms a masked band (that calls to mind the "Star Wars" cantina band), or contributes a solo or duet to set the tone between scenes. Plus, Shelford offers some terrific tap dancing after intermission, and the closing scene rendition of "The Wind and the Rain" will likely give you goosebumps.
The all-male production can be occasionally problematic, since Viola and Sebastian are to be dressed like each other and mistaken for each other. Chance and Wheeler, sporting platinum blond hair and a grey suit each, look alike enough that Hall has to, in one instance, visually include a quick shipwreck flashback so as to establish that it's Sebastian in the scene, not Viola. And there's not much spark between Chance and Heyward.
Even so, Allen and Shelford do fine work, imbuing Olivia and Maria with some sauciness and sass without pushing too hard. And Liam O'Brien's Feste, who opens and closes the show, lends a darkly vaudevillian air to the proceedings.
With a running time of nearly three hours, "Twelfth Night" is at its funniest and most brilliant in the boxtree scene, when Malvolio finds and reads the letter he thinks was written by Olivia, and Malvolio's cross-garter-reveal scene, which demonstrates that although Hall doesn't traffic in camp, he and his company do sometimes push elements to their limit for comic effect.
But the laughter stops while watching Malvolio suffer in prison, blindfolded and miserable and ashamed. We, as the audience, are implicated in the character's pain, and Hall doesn't let us off the hook. Like the storm cloud backdrop, the sting of our culpability subtly lingers after the lights come up.
Propeller's "Twelfth Night" continues Friday, Saturday and Sunday. For tickets, visit the UMS website.
Jenn McKee is the entertainment digital journalist for AnnArbor.com. Reach her at jennmckee@annarbor.com or 734-623-2546, and follow her on Twitter @jennmckee.