Posted on
Thu, Mar 31, 2011 : 6:07 a.m.
Propeller's slick 'Richard III' is a disconcertingly gleeful bloodbath
By Jenn McKee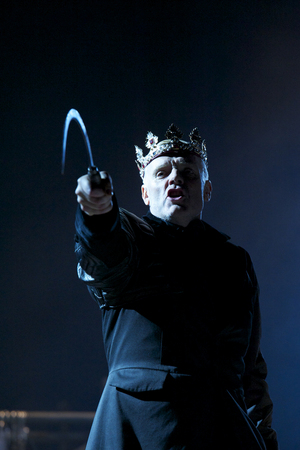 photo by Manuel Harlan
Perhaps more than any other playwright, Shakespeare engenders a fierce sense of ownership among his acolytes. Often, those who love his plays have very particular ideas about how the works should (and should not) be presented.
For instance, as I left the three-hour opening night performance of the all-male British company Propeller's production of "Richard III" - presented by the University Musical Society, and playing through this weekend - I heard two older gentlemen talking about how Shakespeare's language had been nearly lost by way of the production's nightmarish, blood-soaked spectacle, and how Propeller had also cheapened the play by simply going for "easy laughs."
But then, I also heard a few students talking excitedly about how much they'd been surprised by, and impressed with, Propeller's distinctively modern, vivid spin on the play.
Clearly, this disparity between responses demonstrates that Propeller's "Richard" won't be everyone's cup of tea. And I can relate to both reactions. Yet in the end, I have to side with the students. It's pretty tough to imagine tuning out of Propeller's "Richard," even for a moment, largely because of its high "what will they do next?" factor - and there's something to be said for that, particularly when many theatergoers feel they've pretty much seen it all when it comes to Shakespeare.
"Richard III" focuses on one of Shakespeare's most notorious villains - a physically malformed, power-hungry misanthrope who slays and seduces his way to England's throne, only to find himself haunted by his many victims. (In a memorable moment of staging, Richard enters one scene by walking on occupied body bags.)
Richard (Richard Clothier) is perhaps the only Shakespeare villain that not only bewitches other characters, but the audience as well. For despite the fact that we witness Richard's unabashedly evil deeds and plans, there's still something vaguely disappointing about his downfall at the hands of the dull, virtuous Henry, Earl of Richmond (Robert Hands). You just know there won't be a play about Henry's rule - it's no accident that Shakespeare jumped from "Richard III" to "Henry VIII" - and if there was, you wouldn't have much interest in seeing it.
Propeller's "Richard III" is sparsely set in a Victorian hospital or asylum, and the darkly dramatic props, lighting and costuming - including the ensemble's white masks - visually echo the torture-centric horror films of recent years, thereby making the space into a kind of abbatoir as well. The ensemble's masks call to mind the likes of movie killers like Jason and Hannibal Lecter; but interestingly, as longstanding symbols of drama, the masks also question the nature of the play itself. Propeller taps into the text's moments of humor, yes, but does that mean "Richard III" is a farcical, over-the-top dark comedy? Or is it a violent tragedy? The actors' blank masks refuse to resolve the question.
Of course, there are a few moments when Propeller quite deliberately crosses a line. (Does Richard really need to bite off Anne's finger to demonstrate his selfish depravity? Do we need to see the young princes heads suspended in a bizarre, transparent capsule? Does Buckingham need to be disemboweled?) At these times, I wondered, like those older gentlemen I overheard, whether the company might just be aiming for the gratuitously grisly, sensational image, at the expense of the story being told. But then, director Edward Hall surely intends for us to be simultaneously horrified and amused at the play's sublime violence; and because we're so accustomed to the numbing bloodlessness of most Shakespeare productions, the moments ultimately shake us into a more profound recognition of the mortal wounds being inflicted.
Regarding the issue of male actors playing female characters, Propeller merely dresses the performers in skirts or dresses. The men don't alter their vocal inflection or tone in any way, nor do they wear wigs. They are men in plain sight on stage. The dissonance is visually jarring, especially at first; yet because everything that surrounds it in the production is stylized - including the impressive vocals provided by the ensemble (often hymn-like or incongruously peppy, but there's also a rap) that are liberally sprinkled throughout the show, and the inspired use of puppets as stand-ins for Richard's nephews - the choice seems meant to further heighten our awareness of the play's artifice, thereby giving us permission to laugh while cringing.
The actors' performances, not surprisingly, are polished and meticulous, with Clothier necessarily, and charismatically, leading the pack. Tony Bell, as bitter Queen Margaret, and Dominic Tighe, as Queen Elizabeth, also gave standout performances on opening night. Hall's staging is fast-paced, slick, and creative, and regarding Shakespeare's language, the production actually works to open up the text in ways that sneak up on you and take you by surprise.
So inevitably, "Richard III" will likely feel strange and unnervingly new to all - regardless of whether or not, in the end, you embrace its unabashedly jovial and bloodthirsty tone.
Jenn McKee is the entertainment digital journalist for AnnArbor.com. Reach her at jennmckee@annarbor.com or 734-623-2546, and follow her on Twitter @jennmckee.