Posted on
Sat, Jan 28, 2012 : 2:11 a.m.
Purple Rose chisels out a masterpiece with 'A Stone Carver'
By Jenn McKee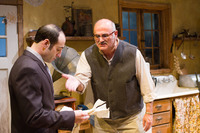 Photo by Sean Carter
For non-artists, there's something innately mysterious and magical about the process of carving a sculpture out of a slab of rock.
And fittingly, this same sense of joyous, breathless wonder pervades the Purple Rose Theatre's terrific new production of William Mastrosimone's "A Stone Carver."
Set in a home that's scheduled for demolition—thanks to the government's plans to build a new off-ramp on that very spot—"Stone Carver" focuses on an aging, curmudgeonly Italian-American man named Agostino (Guy Sanville), who refuses to recognize claims of eminent domain and instead holes up with a shotgun and some homemade wine.
His grown son Raff (Matthew David) soon arrives with fiancee Janice (Charlyn Swarthout)—whom Agostino has never met before—to try and talk some sense into his father. But for reasons that are gradually revealed, Agostino can't bring himself to let go of the house and his memories.
Mastrosimone, of course, is most famous for his play "Extremities"—which makes "Stone Carver" feel all the more like a hidden little gem that not enough people have come to appreciate yet, given how funny, moving, and wholly engrossing it obviously can be.
What mostly seals the deal on the Rose's 90 minute production is Sanville's virtuoso performance. Agostino is the play's anchor, but the role is tricky; the man is mean and pompous, yet hints of his vulnerability must seep through to the surface, too, in order to earn the audience's sympathy. Sanville pulls off this feat while also earning big laughs and providing Agostino with a charmingly mischievous spark.
David, meanwhile, is perfectly cast as the son who has turned away from the family's stone carving tradition to pursue construction work and political office. And Swarthout makes Janice's slow ride from buttoned-up formality to feisty drunkenness appealingly believable.
Daniel C. Walker's fantastic set design (decked out with Danna Segrest's meticulous props) has the interior of Agostino's house on the thrust stage, and Agostino's garden, with a brick wall and an iron fence entrance, behind that. Dana White's lighting design helps to visually elucidate the grip that the past holds over Agostino and his home; Quintessa Gallinat's excellent sound design provides everything from blackbirds to skittering rats; and Shelby Newport's costume design is appropriate while also providing layers that the characters shed as they grow less guarded with each other.
My one qualm with the production on opening night involved Sanville and David's boxing match, which felt a bit technically and emotionally unconvincing (particularly since Raff is supposed to have been a former Golden Gloves champ). This may, however, be something that evolves and improves throughout the play's run.
Ultimately, with "Stone Carver," the Rose is offering what may well be its strongest, most thoroughly satisfying production since its multiple-award-winning take on William Inge's "Bus Stop" in 2005—no small feat for first-time director Rhiannon Ragland, who's clearly managed to carve out something pretty lovely and memorable on her first try.
"A Stone Carver" continues through March 10. For more information, see the AnnArbor.com preview article.
Jenn McKee is the entertainment digital journalist for AnnArbor.com. Reach her at jennmckee@annarbor.com or 734-623-2546, and follow her on Twitter @jennmckee.