Posted on
Mon, Feb 18, 2013 : 8:26 a.m.
David Daniels and the English Concert light up the stage in Handel's 'Radamisto'
By Laurel Firant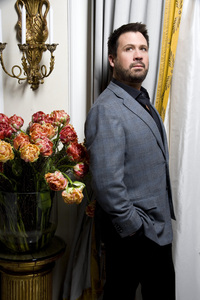 photo by Robert Recker
Concert presentations of operas were mainstays in the early years of the
University Musical Society
. Continuing that tradition and running slightly over three hours, Sunday's production at
Hill Auditorium
of George Frideric Handel's "Radamisto" was an immersion in the Baroque composer's work. And it was more engaging than many fully staged operas.
Conducted from the harpsichord by Harry Bicket, the English Concert deftly navigated the score, playing with elegance and energy throughout. Acclaimed countertenor David Daniels sailed through the challenging title role, singing with polished precision. The period instrument ensemble is a leader in historically informed performance, and it was a joy to hear the music as the composer intended—complete with a theorbo (a type of lute) in the mix.
Dedicated to King George I, the opera premiered on April 27, 1720 at the King's Theatre In London. Handel later heavily revised the work, often to accommodate singers. The Italian libretto by Nicola Francesco Haym is set around Thrace in Asia Minor circa 53 A.D., and the plot is driven by issues of tyranny, lust, love and marital fidelity.
Mezzo soprano Patricia Bardon was remarkably sensitive in her phrasing with the orchestra as she sang the role of Zenobia, Radamisto's faithful wife. Her duets with Daniels had moments of stunning beauty, but, at times, her full-bodied voice almost overpowered him. However, especially at the opening of Act II, the audience seemed to be held in rapt attention by the sheer force of the music and their subtle acting.
Bass baritone Luca Pisaroni sang the role of Tiridate, King of Armenia, with a refined ease melded with a slightly menacing demeanor suitable for the role. As Tigrane, Tiridate's ally, Joelle Harvey displayed an agile, wide dynamic range with her clear soprano voice. First on stage, soprano Brenda Rae set the tone of the concert as Tiridate's wife Polissena with her voice soaring gorgeously over the ensemble.
Daniels, an alumnus of the University of Michigan, was also joined onstage by U-M DMA candidate, baritone Jonathan Lasch as Farasmane (Radamisto's father, the King of Thrace). Lasch is known to Ann Arbor audiences for his recent appearances in "Falstaff" and "Don Giovanni" with the U-M Opera Theatre. He was on top of his game Sunday, delivering an exceptionally rich performance.
The production moved at an excellent pace, and there were moments of rare beauty, such as the delicate interplay between the harpsichord and theorbo.
The audience responded enthusiastically to the concert, giving the performers a cheering standing ovation.