Posted on
Sat, Apr 28, 2012 : 2:10 a.m.
Performance Network's outstanding production should make you want to see 'Red'
By Jenn McKee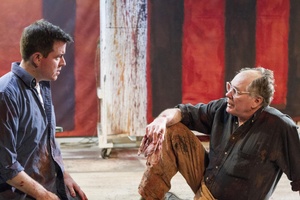 Photo by Sean Carter
The always-challenging reconciliation of discipline and freedom is a running theme in
John Logan
's Tony Award-winning play, "Red"which opened Friday at
Performance Network
—starting with the opening scene: a young assistant, reporting to work for his first day in legendary painter
Mark Rothko
's studio, is ordered to stand in a particular spot in order to "let (himself) go" while studying a work-in-progress.
Similarly, we, as the audience, are granted the chance to explore Rothko's worldview and work within the tight confines of an 80-minute play. But Logan makes every one of those minutes count.
Set in Rothko's Bowery St. studio on the Lower East Side, in 1958-59, the play begins with the arrival of Ken (Kevin Young), who's been hired to help Rothko (Mark Rademacher) as he works on commissioned murals for the high-end Four Seasons restaurant. As Rothko expresses deep concern about how and why people look at his work, and rails against the commercialization of pop art, Ken asks the inevitable question: Why did Rothko accept a commission that appears to go against everything the artist believes in?
Rademacher does terrific work, painting Rothko as a smart, demanding, arrogant, brutal and disciplined artist whose rare moments of vulnerability are only subtly revealed. Young, meanwhile, has to cover a broader range of emotional terrain: Ken hints at, and then relates, his tragic past; he faces down Rothko's volatility while also trying to earn the artist's approval and respect; he speaks in defense of the art world's (then) new vanguard; and he ultimately must stand up for himself and prove his mettle. Young navigates these shifts with apparent ease—while also earning some occasional laughs—and the result is a gripping drama between two people who are fighting for their lives, by way of fighting for their notions of art.
Director Carla Milarch guides this polished production with an eye toward the human struggle that's inherent in the creation of art, and Justin Lang's spot-on lighting design plays a more-self-conscious-than-usual role, since Rothko is obsessively meticulous about the low lighting that he uses while painting, and that he wants his work to be viewed by.
Will Myers' sound design effectively builds, and captures, the play's moods, with one exception: the music used when Rothko and Ken speedily, fiercely prime a giant canvas seems too predictably cinematic. The impressive athleticism of the scene is thus undercut by a heavy-handed soundtrack, making me think that watching these two men go at the canvas, while hearing the effort in their breathing, would have greater effect.
And I'll confess that while hearing Rothko and Ken heatedly discuss past and (then) present-day painters, I became more and more painfully aware of the complete absence of women in the conversation, making the world of art, and Rothko's studio, appear to exist in a kind of male vacuum.
So it's both ironic and really, really satisfying to note that Monika Essen's fantastic set and props design play as huge role in bringing PN's "Red" to life. From the worn, colorless brick of the studio walls, to the over-crowded work tables and paint-spattered, worn floor—not to mention the big, painted canvases that are Rothko's works-in-progress—the set places us squarely in an artist's sacred space before the lights even go down; and it feels like a private, exclusive, and exciting place to be.
The script struggles to convey the passage of time (Ken mentions in the final scene that he's been working for Rothko for 2 years, and the line feels like a surprise when it comes); but it's otherwise impressively airtight, packing lots of thoughtful, meaningful debate into an engrossing story.
At one point in "Red," Ken accuses Rothko of feeling that no one is good enough to look at his work, and the statement has the unmistakable ring of truth. Conversely, though, I'd argue that we're all better for having the chance to see and talk about a play that takes art, and its fraught creation, this seriously.
"Red" continues through May 27. For tickets or information: www.performancenetwork.org
Jenn McKee is the entertainment digital journalist for AnnArbor.com. Reach her at jennmckee@annarbor.com or 734-623-2546, and follow her on Twitter @jennmckee.