Posted on
Thu, Feb 10, 2011 : 11:52 p.m.
Blues legends David "Honeyboy" Edwards, Hubert Sumlin highlights of "Blues at the Crossroads" concert
By Will Stewart
In the 100 years since Robert Johnson was born, countless musical crimes have been perpetrated against the blues.
No small number of those were committed Thursday at Hill Auditorium during "Blues at the Crossroads: The Robert Johnson Centennial Concert," an oddly conceived, exasperatingly executed and frustratingly flatfooted "celebration" of the blues and its spiritual forefather.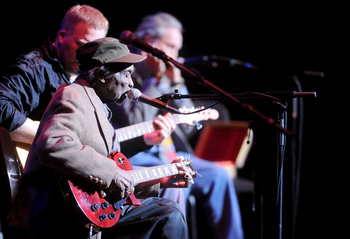 Angela J. Cesere | AnnArbor.com
Thank goodness for two legitimate blues legends — David "Honeyboy" Edwards, the 95-year-old exemplar of the delta blues and a contemporary of Johnson, and Hubert Sumlin, Howlin Wolf's longtime guitar player — for lending a modicum of credibility to what was otherwise a tin-eared commemoration of Johnson's 100th birthday.
(Johnson, or course, didn't live to see his own 28th birthday, having presumably been poisoned to death by a lover's jealous husband or, more legendarily, claimed by the Devil after bartering his soul for mastery of the guitar. Either way, they could have used him on Thursday.)
Todd Park Mohr, who, along with his band, Big Head Todd and the Monsters, served as ringleader and house band for the show, must ultimately carry the blame for its failure. Mohr appeared to have little if any feel for the blues.
That was apparent from the start when he appeared on stage alone with a resonator guitar and stumbled his way through two Johnson numbers, as well as one by Johnson's old mentor, Son House. From the start, it was clear that Mohr's musical reach exceeded his grasp, as he clumsily felt his way through Johnson's intricate fingerpicking patterns.
Things improved somewhat with the arrival onstage of guitarist Lightnin' Malcolm and drummer Cedric Burnside, the grandson of the late Mississippi bluesman R.L. Burnside. The pair blasted through some Sterno-fueled blues that would have done the elder Burnside proud, finding just the right balance of Telecaster grit and percussive muscle.
Edwards, though frail, still packs a wallop, both as a vocalist and for his ability to pull off a snaky slide run that can raise the hair on one's arms. His duet with Malcolm on Johnson's "Sweet Home Chicago" lent new, earthy life to what has become a tired standard. But when Mohr replaced Malcolm as Edward's sideman the wheels mostly came off and Edwards was left exposed as Mohr seemed to struggle to find the changes.
Sumlin, despite relying on an oxygen, played his Stratocaster like a man half his 79 years, recreating some the licks he created that have become part of the blues canon, like the recurring theme on "Smokestack Lightnin' " and the spidery fingerpicking on "Sitting on Top of the World."
Unfortunately, after just a handful of tunes apiece, Sumlin and Edwards were gone and Mohr, Malcom, Burnside and the Monsters wound down the rest of the main set, culminating with a pointless, mid-tempo maunder though Johnson's signature tune, "Crossroads Blues."
It's not an exaggeration to say that at that very moment, on at least a dozen open stages across Metro Detroit, the blues were being performed with more feeling and more authenticity by people with day jobs.
Edwards and Sumlin were back for a brief, two-song encore, but even their considerable charms weren't enough to salvage what could have been — what should have been — a spirited and informative musical birthday party.
Will Stewart is a free-lance writer who covers music for AnnArbor.com.