Posted on
Fri, Mar 11, 2011 : 12:44 a.m.
Druid and Atlantic Theater Company's 'The Cripple of Inishmaan' is a sturdy dark comedy
By Jenn McKee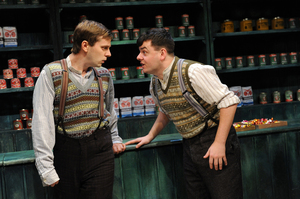 Photo by Robert Day
One of the biggest laugh lines in the Druid and Atlantic Theatre Company production of Martin McDonagh's "The Cripple of Inishmaan" — presented by University Musical Society, and playing through Sunday at the Power Center — arises when one character asks another why people come to the Emerald Isle: "Because in Ireland, the people are more friendly."
The reason this otherwise ordinary line feels wildly hilarious in context is because the play gives lie to that very stereotype.
Set on the isolated, claustrophobic island of Inishmaan in 1934, "Cripple" features a resident busybody, JohnnyPateenMike (Dermot Crowley), who's done his level best to help his elderly mother (Nancy E. Carroll) drink herself to death; a young woman, Helen (Clare Dunne), who curses freely and pegs everyone with eggs, while her brother, Bartley (Laurence Kinlan), moons over American candies and telescopes; BabbyBobby (Liam Carney), a rough-hewn seaman; two bored, aging sisters, Kate (Ingrid Craigie) and Eileen (Dearbhla Molloy), who run a sparsely stocked store while trying to keep their patience with annoying customers; and Billy (Tadhg Murphy), the orphaned title character, whom the sisters care for, but who longs to break free from his sad, tightly circumscribed life.
So when a Hollywood filmmaker arrives at the neighboring island of Inishmore to shoot a movie, Billy hitches a boat ride in hopes of landing a part. When he doesn't return, the locals are left to wonder whether Billy's found success or is struggling with his health.
During the play's opening scene between the two sisters, audience members quickly develop an ear for the characters' dialect and also become acclimated to the relentlessly slow rhythms of life on this island. To really get the sense of why the residents are so often irritated with each other, the audience experiences the numbing, Beckett-like sameness of their days and conversations — especially when JohnnyPateenMike's gossip includes such limp fare as a brotherly spat and a dust-up between a goose and a cat.
McDonagh's script masterfully evokes this oppressive monotony while still being sharply funny — which is no small or easy task for a writer.
And while I normally bristle at watching characters being mean and cruel to each other, I found myself ultimately seduced by "Cripple"'s sorry lot. Yes, they're selfish, annoyed, frustrated, and self-absorbed; but they're also each quite vulnerable, in that they depend on each other to reinforce their individual roles in this ragtag community. Indeed, antagonistic relationships seem to be what provide these wearied souls with a purpose, so that they can bring themselves to get up each morning.
The cast offers uniformly outstanding performances — the interplay between Carroll and Crowley, as well as that between Craigie and Molloy, is often marvelously fun, as is Dunne's (appropriately) larger-than-life presence on stage — and the technical aspects are top notch, too. (One botched lighting cue on opening night will surely be rectified.) Francis O'Connor's sets and costumes, Davy Cunningham's lighting design, and John Leonard's sound design combine to great effect.
Admittedly, with a running time of nearly three hours, there is a stretch during the second act when you wonder where the story will head next, and how it will all finally be wrapped up. But director Garry Hynes keeps things moving while never betraying the island's snail-like pace, and manages to serve up a darkly funny, memorable, and thoroughly satisfying evening of theater. Catch it if you can.
Jenn McKee is the entertainment digital journalist for AnnArbor.com. Reach her at jennmckee@annarbor.com or 734-623-2546, and follow her on Twitter @jennmckee.