Posted on
Fri, Nov 18, 2011 : 6:58 a.m.
U-M offers (and has) a great time with 'Trumpets and Raspberries'
By Jenn McKee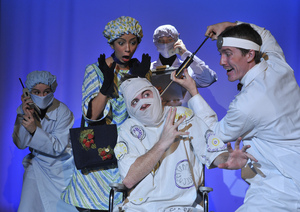 Photo by Peter Smith Photography
One reason Ann Arbor is lucky to have University of Michigan theater professor
Malcolm Tulip
within its theater community is that the British native often broadens the scope of our theater options, staging plays that we probably wouldn't otherwise see on this side of the pond.
Last year's "Trafford Tanzi," for instance, was a disarmingly fun, music-filled ode to professional wrestling (that I'd never heard of before); and now, Dario Fo's "Trumpets and Raspberries"— presented by U-M's department of theatre and drama—offers hyper-stylized comedy laced with uncannily timely political commentary.
Inspired by the kidnapping of Italian prime minister Aldo Moro, who was murdered when authorities refused to negotiate, "Trumpets" tells the story of a Fiat union worker, Antonio (Nick Skardarasy), who saves a man from a burning car. When bullets rain down on Antonio, he flees, leaving his coat on the victim, who turns out to be Gianni Agnelli, a wealthy Fiat industrialist (and Antonio's boss).
Because of the coat, Gianni's identified as Antonio at the hospital, where his wife Rosa (Brittany Uomoleale) and his mistress Lucia (Teagan Rose) meet. Gianni's face is re-constructed to look like Antonio, leading to lots of comical confusion and mistaken identity.
The two and a half hour production's tone is set early on, as hospital orderlies cha-cha-cha the patient's gurney onto the stage, accompanied by Henry Reynolds' jaunty, just-right musical backdrop; the police inspector (Zoe Kanters) enters, wearing both a skirt and a moustache; and various strings attached the patient pull up limbs like levers.
Tulip is a master of this kind of material, of course, and his artistic fingerprint is stamped all over this production. Yes, "Trumpets" feels a bit long for a comedy, and the second act is sharper and more engaging than the first, but overall, the show nicely realizes its Keystone Cops/Marx Brothers-esque ambitions.
The whole ensemble does outstanding work (while sounding authentically Italian, thanks to vocal coach Annette Masson), but Uomoleale and Skardarasy deserve special accolades. Skardarasy handles his dual role with energy and skill, and his smooth comic delivery makes the most of Fo's material. Uomoleale, meanwhile, with heavily exaggerated eyebrows drawn onto her forehead, is the production's backbone, and from the minute she enters the stage-to give one of the more entertaining pre-show speeches I've ever seen—to the time she leaves it, it's hard to take your eyes off of her.
Yet this is also partly due to her hilarious hoop mini-dress—a stroke of whimsical genius by Christianne Myers. Meanwhile, Tulip plays with Lisa Griebel's spare set design by having someone's arm simply appear with a doorknob when characters leave or enter the room, and having ensemble members rush in with window pieces whenever someone looks outside. Finally, Charles Malott's lighting design helps bring all the elements together.
Fo's script has some funny lines ("He thinks manual labor is a Spanish waiter"), but the laughs mostly come from bizarre situations and moments of winking hyper-theatricality (after a doctor offers up a double entendre, everyone on stage does a celebratory dance, which includes baton twirling and "The Victors"). And as things are frantically winding up to a conclusion, the words of Karl Marx earn the spotlight, as Agnelli—who has just faked his own kidnapping and, unlike Moro, has succeeded in having his steep ransom demands met— explains that "government, state and institutions are nothing other than supporting services, for the real power, which is economic power."
In contemporary terms, Agnelli is the one percent—and wholly unabashed about the clout that extreme wealth affords him.
"Trumpets and Raspberries" continues through Sunday. Tickets for all performances are sold out, but a wait list starts at the box office one hour before each show.
Jenn McKee is the entertainment digital journalist for AnnArbor.com. Reach her at jennmckee@annarbor.com or 734-623-2546, and follow her on Twitter @jennmckee.