Posted on
Sat, Oct 13, 2012 : 2:23 a.m.
U-M's 'Sunday in the Park with George' is a polished production of a sometimes dull show
By Jenn McKee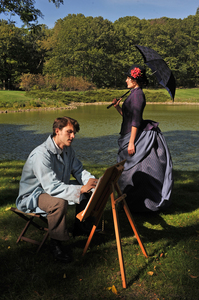 Photo by Peter Smith Photography
What did you think of the show? Leave a comment and / or vote in the poll at the end of this post:
"Sunday in the Park with George," now being staged by the University of Michigan department of musical theatre, begins and ends with the same image: a blank canvas.
For artists, of course, this represents both the most oppressive and the most exhilarating aspect of their passion. As George (Trevor St. John-Gilbert) states at show's end, a new canvas suggests that the possibilities for it are endless; yet George is also plagued and gripped by the fear of having run out of ideas, and the push to always produce more work, and better work, has no end.
With a book by James Lapine, and music and lyrics by Stephen Sondheim, "Sunday" focuses first on painter Georges Seurat in 1880s Paris, as he's furiously, obsessively working on what would eventually become his most famous painting, "A Sunday Afternoon on the Island of La Grande Jatte." Dot (Madison Micucci), Seurat's mistress, grows increasingly frustrated with her lover's inattention and strays into an affair, and then a marriage, with a local baker (Dereck Seay), despite the fact that she's pregnant with Seurat's child.
The show's second act, set 100 years later in America, focuses on Seurat's great-grandson, George - an artist practiced in schmoozing and self-promotion, but incapable of connecting to his own art, let alone those close to him. When George is invited to visit the park where his great grandfather created his best known painting, George gets the chance to reflect on his roots, both in terms of his family and his artistic impulses.
U-M's production is beautifully, impeccably presented, yet I found much of the show's first act to be dull. Though Lapine and Sondheim work to present various figures from Seurat's painting as fully realized characters in their own right, my mind often drifted during these segments, snapping back to attention when Georges and Dot's story became the focus once again.
This is surely in part because the two leads, Micucci and St. John-Gilbert, are outstanding. St. John-Gilbert handles the considerable challenges of a dual role, and the show's complex score, with seeming ease - sometimes while pretending to paint on a large canvas with jabbing, repetitive, staccato motions. Meanwhile, Micucci exudes charismatic strength and confidence while also earning occasional laughs (particularly in the opening title number), and her vocals truly soar in the Mendelssohn.
One of the production's highlights comes at the top of the second act, when the figures in Seurat's painting bitterly complain about their conditions ("It's Hot Up Here"). The number has a light, appealing playfulness that's perfectly in keeping with the show's themes about the limitations, and promise, of art.
Music directors Cynthia Kortman Westphal and Alexander Gemignani have done marvelous work with the ensemble; the clarity, enunciation, and vocal balance couldn't have been better. Set designer Arthur Ridley creates the illusion of greater depth in a clean, structured way, and gets to have some fun when Seurat is altering reality to his artistic tastes.
The contemporary art world depicted in the second act comes to life all the more viscerally thanks to Rachel Laritz's thoughtful costumes. And Jim Lillie's sound design, Aaron Tacy's projection design (one projection appears to be an ultra-close-up of Seurat's "dotty" painting style), and Andrew Lott's lighting design work in concert to echo the show's narrative arc in subtle, sensory terms.
Given that the show starts with a blank canvas, it's fitting that there's no overture (the show starts in silence, with Seurat entering the stage). Yet an overture normally gives the orchestra a chance to warm up before the show gets underway, and without it, on Friday night, a horn part in the opening number sounded awfully ragged (as did a horn line late in the show). Otherwise, however, the orchestra provided a solid backdrop for the actors.
Strangely, "Sunday"'s second act, widely considered the weaker of the two, held my attention far more than the first - perhaps because the depiction of an artist that feels stuck speaks more to me than does one that has room for nothing else in his life but art; and perhaps also because "Move On," as performed by the two leads, had the emotional pull I'd been looking/waiting for all evening.
In the end, there's no dispute that director Mark Madama's two and a half hour "Sunday" production is skillfully executed, and shows off the talents of both those on stage and those behind the scenes. Plus, I loved a handful of moments and numbers. But the problem, for me, involves the show itself, which at times seems less like living art than a still life.
Jenn McKee is the entertainment digital journalist for AnnArbor.com. Reach her at jennmckee@annarbor.com or 734-623-2546, and follow her on Twitter @jennmckee.