Posted on
Sat, Mar 30, 2013 : 9:32 a.m.
U-M Opera students stage laughs and longing in 'Ariadne auf Naxos'
By AnnArbor.com Freelance Journalist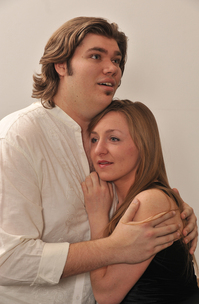 photo by Peter Smith Photography | courtesy of the University of Michigan
By Stephanie Kadel Taras
For AnnArbor.com
"The show must go on"—one theme of Richard Strauss's 1916 opera "Ariadne auf Naxos"—was tested Friday night in this U-M School of Music, Theatre & Dance production.
When guest conductor Kamal Khan (visiting from South Africa) first emerged, baton in hand, he announced that Antonina Chekhovskaya, the soprano scheduled to sing the part of Ariadne, had a head cold and might not be able to perform the entire show. Since the opera has been double cast, another Ariadne was available if necessary, but the show went on as planned. And if that is how Ms. Chekhovskaya sounds when she's sick, one can only wonder at her full powers.
As the lovesick Ariadne, abandoned on the desert island of Naxos by Theseus after helping him defeat the Minotaur in the labyrinth, her scenes are mesmerizing. Shrouded in black fabric, sometimes projecting from a completely prone position, she begs for death to the accompaniment of melancholy violins. She is attended by three dreadlocked sea nymphs whose voices blend like rolling waves, while shades of the underworld reach their hands up around Ariadne from the floor. Chekhovskaya's desperate longing is entirely convincing.
Until, suddenly, a comedy troupe rolls onto the stage—four boys in khakis and a girl in a red sequined dress—saying forget your troubles, come on get happy.
What?
Well, that's not the exact English translation of the German libretto written by Strauss' collaborator Hugo von Hofmannsthal. But the story takes this jarring turn, and soon the audience is laughing.
We were prepared for these events by Strauss's 40-minute "prologue" to the opera, which introduced us to a contemporary setting in which an opera composer, his teacher, the opera's stars, and a comedy troupe have all converged at a wealthy Viennese home as paid entertainers for an extravagant gala. The composer—a mezzo-soprano "pants role" sung powerfully by Elizabeth Galafa—is young and earnest and has written this opera about Ariadne to express deep emotions of loneliness and steadfast love.
Galafa's performance is perhaps even more melodramatic than the role requires, but the composer is appalled to learn that his transformative opera will be followed by vapid, lowly comedians, who are equally disdainful of the serious work. In fact, Nicholas Nestorak, playing the troupe's choreographer, yawns as he sings of how boring the opera is surely to be.
Chaos ensues when the two groups are then told they must perform simultaneously so as to end in time for the scheduled fireworks display. The comedians find this hilarious, and prepare to improvise themselves right into the opera. After all, the show must go on.
Which brings us back to the boys interrupting Ariadne's death-wish. The vocal ensemble of four buffoons wearing flippers and snorkels is a delight. And when the star of the comedy troupe, Zerbinetta, features herself in the opera, she makes it her own. Jillianne Tucker sings a 13-minute super-aria meant to convince Ariadne to give up death and just go on to the next boy. Cleverly staged by director Kay Walker Castaldo, the vocal line swells each time another handsome suitor parades by. In previous scenes, Tucker lacked the booming projection of her colleagues, but she makes up for it in this famously difficult aria.
Indeed, given that so much of this opera is especially difficult, the production is a triumph. Not only is it a large cast, with everyone singing challenging vocal parts in German, but every single instrument in the orchestra has its own part (for example, no two violins play the same lines), the pace is tricky, and the opera-within-an-opera concept requires complex staging. The conductor was clearly straining to keep it all together. But when Bacchus (richly sung by tenor Tshepo Moagi) finally leads Ariadne into the light of a new day, we are reminded of the young composer's earlier epiphany: "Music is true holiness."
Each of the two "Ariadne auf Naxos" casts will perform once more this weekend: Saturday at 8 p.m. and Sunday at 4 p.m. Tickets are available online.