Posted on
Fri, Apr 19, 2013 : 2:16 a.m.
You'll be crazy about University of Michigan's 'Crazy For You'
By Jenn McKee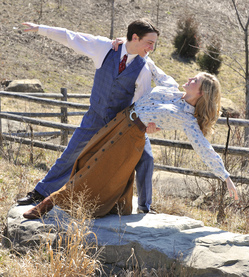 Photo by Peter Smith Photography
At one point in the
University of Michigan department of musical theatre
production of "Crazy For You," lead actor
L'ogan J'ones
drunkenly stumbles down to a staircase's landing and slams into a wall.
On opening night, J'ones' body landed with such force that that entire portion of the set, mounted on a scenery wagon, rolled apart from the rest. "Safe!" J'ones proclaimed, spreading his arms ump-style (and thus garnering applause).
Indeed, several tiny technical glitches arose during Thursday's performance; yet the three-hour show is so packed with humor, irresistible Gershwin songs, and eye-popping dance numbers that the technical hiccups were forgotten as quickly as they occurred.
Partly inspired by the Gershwin brothers' 1930 show "Girl Crazy," "Crazy for You" - which premiered on Broadway in 1992, and features a book by Ken Ludwig - tells the story of Bobby Child (J'ones), a Harvard-educated banker who really wants to be a dancer. The bank is the family business, however, so Bobby's mother (Erika Peterson) sends Bobby away from the New York theaters (and his feisty fiancee Irene, played by Stephanie Styles) to Deadrock, Nevada in order to foreclose a rundown theater.
Yet once Bobby arrives, he falls in love with the theater owner's daughter, Polly (Mary Little), and calls upon his vacationing friends, a company of dancing girls, to put together a fundraiser show for the theater. The problem is, the local cowboys can't dance, and the show has no audience - leaving Bobby and the theater at a crossroads.
There are loads of great performances on the Power Center stage during the "Crazy for You," but what primarily showcases them is Susan Stroman's masterful choreography, recreated for U-M's production by Shari Jordan. (Ron De Jesus contributed additional choreography.) The dancing is an absolute joy to watch - an early indicator is the splashily fun "I Can't Be Bothered Now" - and the imaginative integration of props in numbers like "Slap That Bass," "I Got Rhythm" and "Stiff Upper Lip" just amps up the gaiety.
It likely won't surprise you to learn that J'ones is one terrific hoofer, and he anchors the show with confidence and poise. Little, meanwhile, sings and dances beautifully, too, while establishing Polly as a funny, sassy, tough-girl foil. The ultra-feminine Follies Girls make every scene they're in more lively, and the golden-throated cowboys - well, you may have guessed that after some practice, they actually get pretty darn good at that dancing stuff.
"Crazy" is a long show with a ton of numbers (in several locales, nicely imagined by set designer Bruce Brockman); and although it threatens to get bogged down at times, director Linda Goodrich keeps the show moving at a good clip, with music director Catherine Walker Adams working in tandem (and leading a strong orchestra). Costume designer George Bacon does terrific work, injecting color into the show, but muting the palette in keeping with the Old West setting. (Dawn Rivard designed the wigs and makeup.) Lighting designer Andrew Lott and sound designer Michael Eisenberg also contribute to the show's overall atmosphere.
Given the particularly horrible stream of news this week - including gunshots fired in Watertown, Massachusetts as I write this review - I found the show's cornball humor (and a couple of pokes at "Les Miserables"), familiar songs and impeccably synchronized production numbers a refreshing antidote. "Crazy for You" adheres to the old fashioned notion of musical theater being entertainment for entertainment's sake; and when the direction and performers are this fabulous, who wouldn't jump at the chance to escape reality for a few hours?
"Crazy For You" continues through Sunday. For more information, see the preview article. Tickets are available online.
Jenn McKee is an entertainment reporter for AnnArbor.com. Reach her at jennmckee@annarbor.com or 734-623-2546, and follow her on Twitter @jennmckee.