Posted on
Fri, Dec 7, 2012 : 2:30 a.m.
University of Michigan's 'Midsummer Night's Dream' is a visual feast
By Jenn McKee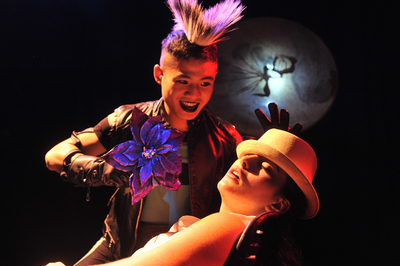 photo by Peter Smith Photography
What did you think of the show? Leave a comment and/or vote in the poll at the end of this post:
University of Michigan theater professor Malcolm Tulip has established himself as an innovative local artist with a penchant for physical theater that takes risks and, when appropriate, goes for belly laughs - and his new production of Shakespeare's "A Midsummer Night's Dream" is no exception.
Set at Nevada's carnival-esque Burning Man Festival - an annual, unbridled celebration of various performance arts - this two-and-a-half-hour "Midsummer" features gender-blind casting, tattoos, mohawks, and a lot of black clothing.
The play's stories involve a fairy king and queen who are feuding over custody of an adopted baby; four young lovers whose loyalties and feelings shift during the night, thanks to a fairy's intervention; and a traveling band of actors that plans to perform for the soon-to-be-married Duke Theseus of Athens.
But the first thing that's likely to capture theatergoers' imagination - and rightfully so - is Vincent Mountain's wondrously inspired set, which consists of a central, climbable pole, topped with lamps and four strings of lights, plus a large, rounded, wooden structure that's part climbing wall, part ropes course, and, with doors of various size offering means of entry and exit, part gateway. Also, the set's lowest section is slanted, so in one scene, Puck (Derek Joseph Tran) sprints around it in circles, seeming to wind up as he goes, while in another moment, the actor playing Hermia (Kevin Collins) ramps off it and performs a breathtaking flip. Tulip and his actors thus make fantastic use of the theatrical playground Mountain has created.
Christianne Myers' Thunderdome-like costumes are equally enthralling. Puck, Titania (Tyler Dean) and Oberon (Caitlin Chou) have lights integrated into their clothing; Collins sports patterned, knee-less black tights, a black leather mini, and a blouse with small bubble sleeves; Flute (William Filkowski) rocks a red "I'm a Pepper" t-shirt (I'd love to know where Myers unearthed that gem) with a pleated plaid miniskirt and striped leggings; and the fairies - a mysterious, synchronized troupe that serves various functions - are well-groomed, tattooed (including a block M in one case, naturally), and sleek in their sexy black ensembles. The pleasure Myers took while meeting the creative demands of this unusual production seems to radiate through nearly every article of clothing.
Indeed, "Midsummer"'s design elements are so impressive, especially when paired with Tulip's physically dynamic direction, that you might lose whole pockets of dialogue as you linger and marvel over visual details. In this way, the production's sense of spectacle tends to overwhelm the text. Yet because "Midsummer" is one of Shakespeare's most-produced plays, most audience members will be familiar with the show's basic outline, which likely grants Tulip additional artistic latitude.
Some standout performances also help the text's cause. Two young women got the biggest laughs on opening night: Quinn Scillian as the scorned, and then adored, Helena; and Allison Brown as spotlight-consuming actor Bottom. Scillian literally throws herself at, and onto, Jon Manganello (Demetrius) while manically pleading her romantic case; finds herself hilariously trapped in one of Lysander and Hermia's passionate embraces; and skillfully conveys angry bafflement when the romantic tables are turned. Brown, meanwhile, offers a clinic in comedy, which steadily builds toward a hysterical finish as she, playing tragic lover Pyramus, plays a protracted death scene - but along the way, there's also Bottom straddling a skateboard, jockeying for position among the Mechanicals, and walking in a distinctively different way after morphing into an ass.
The Mechanicals overall do great ensemble work and earn some hearty laughs (particularly Filkowski and Joe Dunn); and I found Collins' performance compelling in its androgyny. Though he wears women's clothes, the gender-bending is never played for laughs, nor does Collins camp it up by way of a high voice or other signs of hyper-femininity. Instead, Hermia's character is housed in a male body wholly at home in what are traditionally women's clothes, and his rejection of a man, played by a man, in favor of a man, played by a woman, offered an interesting new vision of the tale.
Lighting designer Rob Murphy meticulously guides our eyes through this enchanted world, conveying shifts of mood and tone with subtlety; sound designer Henry Reynolds uses echoes (and, at the end, a whispering cast) to create a haunting sense of the metaphysical; and Dawn Rivard provides makeup and wigs that add another distinctive visual dimension while staying within the production's tone.
Did I mention that Philostrate (Kendra Williams) walks around on stilts? No? That's likely because there's no end of things to visually feast upon in Tulip's "Midsummer." And even if you think some of Shakespeare's poetry has been lost along the way, you should stay for the Mechanicals' performance in the second act, which is a comic highlight, lampooning the very pursuit that Shakespeare has inspired in so many.
"A Midsummer Night's Dream" continues through Sunday. For background, see the preview article. For tickets, visit www.music.umich.edu/index.php.
Jenn McKee is the entertainment digital journalist for AnnArbor.com. Reach her at jennmckee@annarbor.com or 734-623-2546, and follow her on Twitter @jennmckee.