Posted on
Tue, Apr 5, 2011 : 7:50 a.m.
Wiz Khalifa thrills a packed house at EMU Convocation Center
By Jennifer Eberbach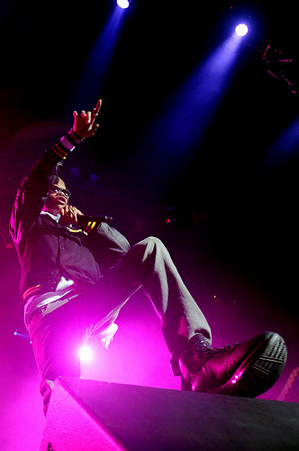 Melanie Maxwell | AnnArbor.com
An enormous crowd of hip-hop fans rolled out to see big name rapper Wiz Khalifa at Eastern Michigan University's Convocation Center, last night. He completely sold out the big venue. The 23-year-old Pittsburgh raised performer had a seemingly endless sea of people hyped up with their hands up in the air for the entire set. Though he's still not much more than a kid, the audience greeted him as if he is already a legend.
The MC has gained a lot of new fans since blowing up in the mainstream with hits like "Black and Yellow", featured on his new album Rolling Papers. Since the album dropped March 29, it has been projected that it will make over $200,000 in its first week. The enthusiasm of his audience in Ypsilanti would suggest the album, his first with a major record label (Atlantic), is going to be a huge success.
The album's biggest hit single to date, "Black and Yellow," went double platinum and topped the Billboard charts. There is no question that his recent rise to mainstream fame helped fill seats in Ypsilanti. However, the place was also packed with plenty of diehard fans — known as the Taylor Gang — who have been listening to his mixtapes and independent releases for years. Many of them were sporting Taylor Gang clothing. He may be young, but he has been at the game since 2005. During the show, he frequently gave shout-outs to his fan base for supporting him along his way to stardom.
He left his three most well-known songs for the very end of the show, leaving the crowd on an extra high note. By the time he got around to "On My Level," "Roll Up," and "Black and Yellow," the crowd could not scream much louder than they already were. They had already been pumped up by plenty of other crowd favorites.
Other songs featured on Rolling Papers were a hit with Ypsilanti's crowd. Many knew the words and sang along to songs like "When I'm Gone," "Wake Up," "No Sleeping," and "Taylor Gang." Throughout his set, he also pleased fans with tracks from his popular mixtapes including Kush and Orange Juice, a 2010 release that blew up on the internet and received a lot of positive attention from critics. The MC also took time during the Ypsilanti show to pay tribute to his influences, including the late rapper Nate Dogg, who passed away last month.
His lyrics often cover a lot of frivolous indulgences like smoking pot, partying, women, and money. However, Wiz Khalifa makes a point to let his audiences know that he is serious about his music and that his lyrics come from a genuine place. So far, the reviews of Rolling Papers have been pretty positive, though some are a little lukewarm. Entertainment Weekly gave it a B+. "The Pittsburgher's debut on Atlantic is lyrically limited to getting high, stealing chicks, and blowing cash...Yet it burns with an underdog's passion and a champions spite," wrote Brad Wete. MTV's online newsroom recently posted a list of reviews.
The show was hype before the main attraction hit the stage. Khalifa was joined by fellow Pittsburgh rapper Mac Miller, who had almost as many fans in the crowd as the headliner. The 18-year-old may like to party and get wasted (as he announced during the show), but his skill at spitting rhythms is mature. Songs from Mac Miller's mixtapes K.I.D.S. and Best Day Ever were crowd favorites. The rapper released a new EP, On and On and Beyond, last week.
Indie electro rock band Mansions on the Moon warmed up the crowd at the start of the show. Their diverse pop/rock set complemented the predominantly hip hop show. You can download their mixtape Paradise Falls for free. At the show, they announced The Neptunes are helping them with their debut album, which is planned to come out this August.